Students of Shaanxi Bible School went back to school for the new semester on September 1, 2019. This year, the school's 30th pastor and layperson class recruits 56 new students.
From September 2 to the morning of September 3, there was a revival meeting for the new semester. Two young pastors from Jingyang Church were invited to lead the meeting. They shared sermons entitled "The Call of Peter", "Trust and Be Trusted", "The Life of Revival", and "Do not Worry", vividly and energetically preaching the word of God, and sincerely telling their stories of serving.
On the morning of September 2, 2019, Guizhou Bible School held an enrollment service and an opening ceremony for the freshmen in 2019.
Rev. Zhou Shizhong, executive vice president of Guizhou Bible School hosted the service. Vice President Rev. Yang Mingzhang cited verses from Rome 1:1 and 1 Corinthian 1:1-3 to give a sermon entitled "Rethink the Call of Paul", exhorting freshmen to wait for the calling from God, take the God-given duties and responsibilities.
Afterwards, Rev. Yang Chaoyun, president of Guizhou CC&TSPM and Guizhou Bible School addressed the opening ceremony. He told the students to adjust the mentality for the upcoming campus life and study; get along well with one another, be humble, polite and broaden-minded; obey school rules and disciplines, echoing "Everything should be done in a fitting and orderly way"; love church and love country, and become a man useful to the country and church.
On September 2, 2019, Zhejiang Theological Seminary had 24 freshmen of theology coming from churches in Zhejiang.
At 18:45, there was a parent-teacher conference held in the seminary. At the conference were freshmen and their parents, along with staff members from churches in Zhejiang. Rev. Wang Yinuo, vice president of Zhejiang Theological Seminary hosted the conference.
Rev. Lin Xinlu, the assistant to the President cited the verses from Acts 18:24-28 encouraging freshmen to maintain a balancing mentality in pursuit of truth, namely the balance between reason and spirit, teachings and lessons, as well as courage and tolerance.
In the sharing, parents told the stories of their sons and daughters receiving the call from God. Staff members expressed their expectation on the freshmen.
A woman said, "I support my husband studying theology. So do our parents. We hope he could learn and equip himself for better serving church in the future."
On September 4, 2019, an autumn opening ceremony was held by Zhongnan Theological Seminary in the new campus site's hall, with all students attending.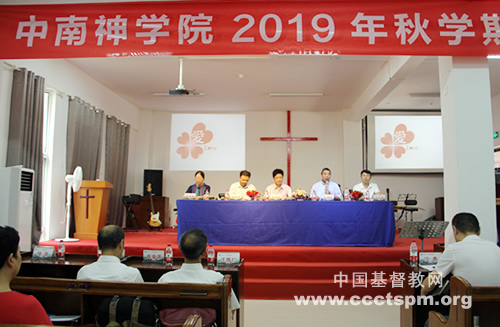 Prior to the opening ceremony, there was a spiritual practice hosted by Vice President Rev. Zhang Shuilian. Rev. Wang Zhenren, former president of Zhongnan Theological Seminary used verses from Matthew 4:18-22 to exhort all students and faculty to be aware of the calling, love the Lord in piety and walk with God.
On the morning of September 4, 2019, Anhui Theological Seminary held 2019 Autumn Opening Ceremony in the auditorium of the seminary. The ceremony was hosted by Dean Rev. Dai Yongsheng. Over 170 students and faculty, staff members of the seminary and Rev. Chen Tianyuan, president of Anhui TSPM president of Anhui Theological Seminary attended the ceremony.
At 9 a.m. of September 5, 2019, Nanjing Union Theological Seminary held a service and a ceremony for the new semester in the fall between 2019 and 2020. Over 500 people including President Rev. Gao Feng, Executive Vice President Chen Yilu, Vice President Rev. Chen Bin, and students and faculty attended the service.
Rev. Chen Yilu gave a sermon entitled "Bravely Climbing Mount Sinai" from Exodus 24:12-18, encouraging students to start a journey with a new purpose.
The new semester service and ceremony ended up successfully with the singing of Deeper, Deeper in the Love of Jesus and the blessing given by Rev. Gao Feng.