On the evening of December 19, 2019, Nanjing Union Theological Seminary held a Christmas music worship service in its auditorium. Candles were lit and the prelude was played. The choir performed "Christmas Eve", "Go, Go, Go To Bethlehem", "Shout For Joy And Praise To God", which brought the congregation into the atmosphere of sacred worship.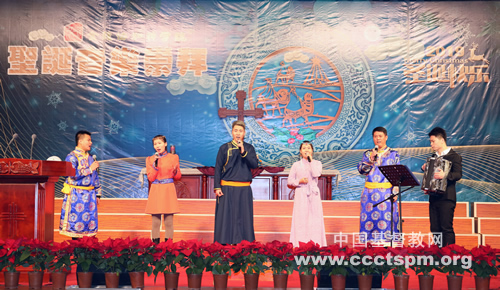 On the evening of December 20, 2019, Fujian CC&TSPM and Fujian Theological Seminary jointly organized a Christmas thanksgiving and praise meeting in Fushen Church. Over a thousand people including leaders of Fujian CC&TSPM, students and faculty of Fujian Theological Seminary, and believers from Fujian Province attended the activity.
The evening gala took on a variety of shows and performances, encompassing chorus, solo singing, dance, dance with cups, musical sitcom, pantomime, piano performing, violin duets, sign dance with music and reciting, sketch, etc.
On the morning of December 22, 2019, all the students and faculty of Northeast Theological Seminary gathered in Panshi Church affiliated by Liaoning CC&TSPM for the 2019 Christmas thanksgiving service. The Sacred Choir of the seminary sang "Sing To Praise".
In the afternoon, the Christmas thanksgiving meetings, organized by the Student Affairs Department, were held in class unit. The faculty, led by Elder Shi Aijun, visited every class and performed with the students to celebrate Christmas.
From December 23 to 25, Jiangsu Theological Seminary conducted 2019 Christmas celebrations. The students and faculty, together with staff members of Jiangsu CC&TSPM, celebrated the birth of Jesus Christ.
On the evening of December 24, 2019, Henan Theological Seminary held a Christmas Eve gala in the seminary's auditorium.
The gala was kicked off in a joyous and harmonious atmosphere. A list of shows and performances were given, featuring chorus with Chinese characteristics, folk dance, stage play, along with musical performance played by dulcimer (Yang qin), pipa, erhu, Chinese zither, bamboo flute, etc.
From December 24 to 25, all students and faculty of Zhejiang Theological Seminary cheerfully celebrated Christmas.