Many years ago, I did morning exercise with my mother. It was early in the morning on a late spring day with a gentle breeze. Near a quiet path, there was a desolate courtyard with several peonies swaying in the wind at the corner of its fenced-in yard. Some of these dazzling white and red flowers were still in bud, while others were just blooming with dew drops.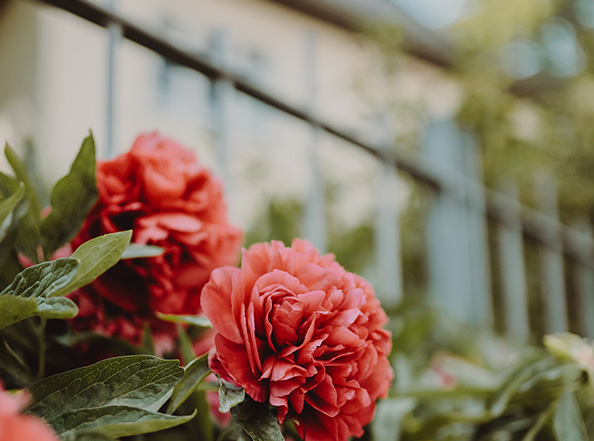 Photo by Marina Reich on Unsplash
I also planted peonies in my own yard when I was a teenager. Carefully tended, they sprouted, grew, and blossomed in the anticipation of my companions and me. They danced proudly, basking in our praise. But before me, these peonies growing in a desolate place were also fresh and elegant. No one cared whether they thrived or withered. I sighed, and a line of poetry  escaped my mouth: "These red peonies by the bridge, for whom do they bloom year after year?" (Song Dynasty, Jiang Kui, fromYang Zhou Man·The Famous Capital in the Eastern Huai River)
"It's a pity. These beautiful flowers bloom and wither lonely with no one seeing and appreciating them." "What's there to pity? With or without an audience, they bloom just the same. Flowers grow to bloom, regardless of whether they are appreciated by someone or not." Then my mother replied and kept walking. After living through the hardships of her life, my mother, an optimistic and wise woman who always finds joy in the Lord, may not have intended to convey any hidden meanings, but her words deeply touched my heart.
Flowers grow to flourish, for they are born this way; it is the same case with gold, which shimmers due to its intrinsic qualities. Instead of muddling along or grumbling, flowers bloom brightly and live wholeheartedly. It is pleasant to be appreciated by someone, while living as a blooming flower in a remote place to flourish and wither quietly, fulfills the covenant with God to live out our mission given by our Creator and not to live in vain. What a simple yet profound truth!
Loving the people around us is not merely because they are lovable or because they will repay us. We love, because God loves us first and asks us to love others, to care for the humble, to support the weak, and not just to socialize with the high and the mighty, as has been currently advocated. The Lord Jesus promised, "and if anyone gives even a cup of cold water to one of these little ones who is my disciple, truly I tell you, that person will certainly not lose their reward." (Matthew 10:42) Isn't the rewards from God more precious than the worldly rewards?
Be earnest, steadfast and responsible in your work, not just for the compliments from colleagues and superiors, nor for job promotion. You dedicate yourself to work, simply because you know that the dedication to God is through work. When we do our work, we become the finger of God, namely as His envoy providing the love of caring to others. Work is no longer a burden to prove our self-worth, no longer a means to feed ourselves; it becomes a way to love our neighbors. No matter how normal or even humble the work is, we should not muddle through or act in a perfunctory way. Just as Timothy Taylor mentioned in The Meaning of Work, we see God becoming a gardener in Genesis; in the New Testament we see God becoming a carpenter.
There is no trivial task that cannot bear the enormous God-given dignity of work. Even simple manual labour is God's work, which is no less significant than the elaboration of theological truths.
We may sow in tears and even face the dilemmas that "the fig tree does not bud and there are no grapes on the vines, the olive crop fails and the fields produce no food, and there are no sheep in the pen or cattle in the stalls" (Habakkuk 66:12), but we never lose heart. We know that "we went through fire and water, but you brought us to a place of abundance." (Psalms 66:12) There will be a joyful harvest on the Day of God.
We obey the will of God and follow His orders, since we are the disciples of Christ to fulfil our duties, just like flowers that are meant to blossom.
Author: Liu Lingwei
Translator & editor: Bei Feng, Tian Tian.