From October 16th to 18th 2018, Jiangsu Theological Seminary held a series of 20th Anniversary Thanksgiving commemorative activities. Faculty and students, fellow workers and many distinguished guests gathered together to celebrate the 20th Anniversary of the Seminary.
At 9:00 on 16th October, the Anniversary Thanksgiving Communion Service began. Rev. Zhang Kequan, Vice President of Jiangsu Theological Seminary presided over the service, and Rev. Liang Huaping, Chairman of Changzhou TSPM prayed. Rev. Chen Bin, Vice President of Nanjing Union Theological Seminary read the lection (Roman: 12: 1-2) and Rev. Zhao Zhien, former Vice President of Jiangsu CC was invited to give a sermon titled 'Be Grateful and Devoted'. Rev. Zhang Keyun, Chairman of Jiangsu TSPM and President of Jiangsu Theological Seminary presided over the Communion after the sermon, assisted by leaders from local CC&TSPM.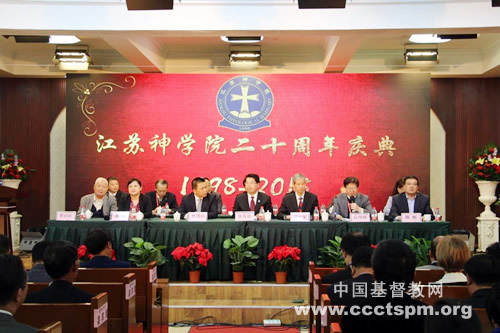 After the Thanksgiving Service, the logo, motto and anthem of Jiangsu Theological Seminary were released. The Cross Theme Exhibition Hall was also unveiled.
Jiangsu Theological Seminary was formerly known as Jiangsu Christian Bible College, a three- year post-secondary theological college that was founded and began to enroll students in Jiangsu Theological Seminary was found in October 1998. In September 2012, with the official approval of State Administration of Religious Affairs, the College was upgraded to a religious institution of higher education (with four-year undergraduate programs) and was renamed Jiangsu Theological Seminary. At present, Jiangsu Theological Seminary has a main campus in Nanjing and two branches in Sihong and Suzhou. In has cultivated over 1300 theological students in the past twenty years, playing a vital role in the healthy development of the church in Jiangsu.
At the ceremony, Rev. Zhang made a speech and summarized the journey that Jiangsu Theological seminary has went through in the past twenty years, and laid out prospects for the future development of Jiangsu Theological Seminary and the Church in Jiangsu. Rev. Shan Weixiang, representing CCC&TSPM extended warm congratulation on the 20th anniversary of the founding of Jiangsu Theological Seminary.
Anniversary commemorative activities also included a thanksgiving evening gala, a school-community social gala, and an alumni fellowship gala, etc. With a grateful heart, participants sang and danced to celebrate the twentieth birthday of their seminary.
Although the three-day anniversary ceremony soon came to an end, Jiangsu Theological Seminary never fails to keep moving forward. In the future, all faculty and students will continue to adhere to the school motto of 'Vision, Responsibility and Serving', be down-to-earth, and forge ahead with determination, so as to create a brighter future.