On May 11, 2020, Jilin CC&TSPM signed an agreement on delegating the construction and monitoring for the project on the electric pump wells for anti-drought with the government of Dongsanjiazi Village, Qian Gorlos Mongol Autonomous County, Songyuan City, Jilin Province.
The northern part of Qian Gorlos County features endless sand dunes and is susceptible to drought all year round due to the severity of soil erosion, which results in the situation that local economy is lagging behind.
In recent years, the government of Dongsanjiazi Village has been making active efforts in raising money to cope with the drought issues and ensure food production so that local farm households could shake off poverty sooner. However, the cost of digging wells keeps climbing due to the declining of local groundwater level (reaching around 80 to 100 or so meters below ground). Currently, together with relevant equipment, building one electric pump well requires 20,000 CNY.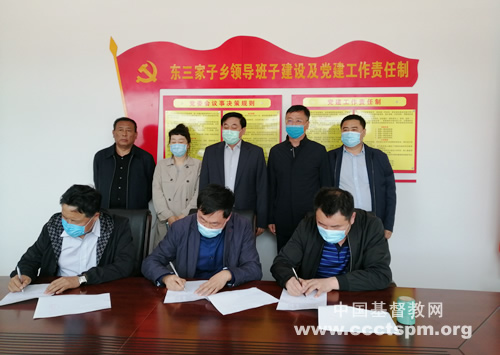 The agreement signed by Jilin CC&TSPM and the government of Dongsanjiazi Village involved the donation of 220,000 CNY from Jilin CC&TSPM for building 11 anti-drought electric pump wells and purchasing relevant equipment, and the government of Dongsanjiazi Village is responsible for the construction monitoring as the quality supervisor.
Churches in Jilin Province also participated in the fundraising for this anti-drought well building project.
The construction period ranges from May 12 to 30 and the acceptance date will be on June 5.
(Translated and edited by Bei Sang)