After the glorious and joyous Easter Day, on the morning of April 6, 2021, Xinjiang Urumqi Autonomous Zone Christian Council organized all staff members to go to Dongshan Christian Cemetery in memory of deceased predecessors, church members, as well their close ones.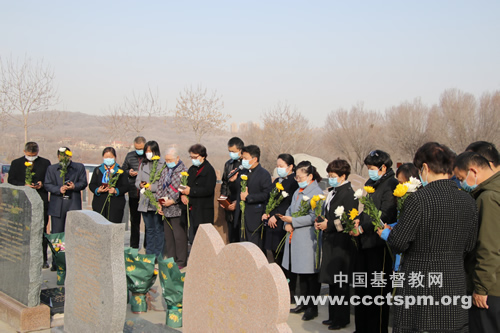 Rev. Cui Hebin presided over the memorial service and Rev. Li Qinfeng gave a sermon with the verses of Hebrew 11:13-16. Rev. Li referred to the figures in the Bible who had great faith, telling that we Christians are all born and live by faith. As passengers of this secular world, we will die but resurrect with faith. When we pay tribute to our predecessors and our close ones, brothers and sisters, the name of our Lord is testified and honored once again. Rev. Li Qinfeng used biblical teachings to exhort all to follow predecessors' example, offer ourselves to the Lord, cherish our time of service and live in the hope of His glory.
Rev. Fan Chenguang then prayed and gave the benediction. In her prayer, she mentioned the evangelists who travelled all the way to Xinjiang only to preach the gospel, as well as those who were summoned by God and dedicated their whole lives to this land.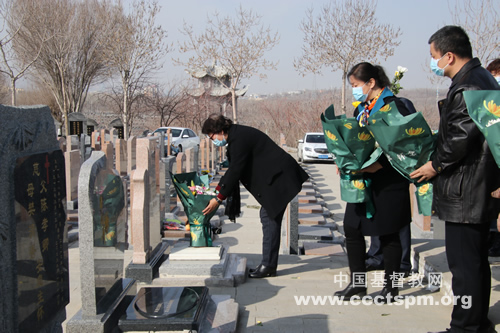 After the service, Rev. Fan Chenguang led all to lay flowers on the graves of the deceased. .
Every year, on the occasion of the Tomb Sweeping Day (a traditional Chinese festival to commemorate one's ancestors, deceased relatives or friends), Urumqi church members pay tribute to God's servants in Dongshan Cemetery.
Translated and edited by Bei Sang.