On the morning of 9th November, 2018, Yaozhou Church in Yaozhou District, Tongchuan City of Shaanxi Province gathered a large group of people coming to attend the dedication and thanksgiving service to celebrate the Church's twentieth anniversary. Over 600 church leaders, staff, brothers and sisters from churches in Tongchuan City attended the thanksgiving service.
From 10:40 to 12:00 in the morning, the church held the twentieth anniversary ceremony. Teacher Guo Huiping, Director of Yaozhou Church announced the beginning of the ceremony. Elder Zhang Xiqin prayed for the ceremony and Elder Lv Aizhen read the lection. Rev. Liu Jing from Xi'an Shengchanlu Church gave a sermon on the verses in the Book of Exodus 36:1-7. She exhorted believers to bear in mind the Bible's teachings: be modest and humble, build yourselves and a spiritual house up in the holy faith; Obey the truth of the Bible, love our country and the Church in China, and be law-abiding, self-disciplined believers and citizens.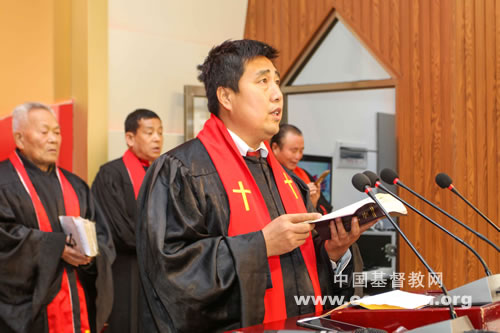 Rev. Li Wenbin, Tongchuan TSPM Secretary General and Office Director briefly introduced the history of Yaozhou Church and its renovation. Located in the midland of Shaanxi Province and 70 mile away from Xi'an downtown, Yaozhou District acts as the zone of transition connecting the Guanzhong Plain and the Loess Plateau of northern Shannxi. It is also an essential place heading to the Mausoleum of Yellow Emperor (who was the creator of Chinese culture) and Yan'an, sacred place of Chinese revolution. The gospel of Christ was first spread to Yaozhou as early as the winter of 1898, when English Baptist Missionary Society built the first church in Yaozhou, Tongchuan City. In 1998, that Yaozhou Church was established thanks to God's blessing. It was a two-storey building that can accommodate 400 people, covering a total area of 200 m2 and a floor area of 328 m2. Yaozhou Church played a significant role in preaching the gospel to all parts of Tongchuan. On 19th June this year, the first Yaozhou Church Renovation Project started and was completed on October 18th, costing approximately 500,000RMB. Every church member was grateful to witness God's abundant blessings and grace.