On the afternoon of 7th December, 2018, Zhejiang Wuxi Church held a thanksgiving service in its side hall for special groups with physical or mental disabilities. Ms Cao Jinsuo presided over the thanksgiving service. It consisted of three parts, namely, worship, celebration and care, and lasted for 100 minutes. Over 300 people attended the service.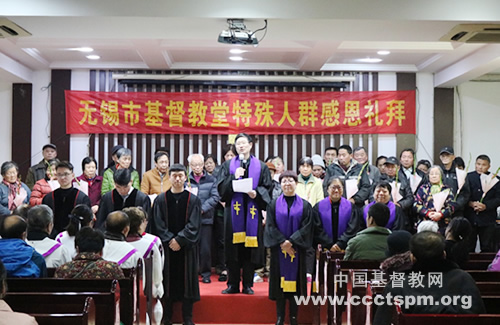 The church aimed at sending love and care to the disabled people in the church and the local community alike. Over 40 people received gifts from the church. Family members of the disabled people were invited to come up on the stage and receive recognition and gifts. They deserve applause and encouragement as they are the people who have long been supporting their family members with selflessness.
This activity gives care to the disabled people and is also the church's tradition in public charity. During the service, Rev. Zhang Peifu exhorted the audience with the verses from the Bible, which not only empowered and comforted the disabled people, but also impelled people present to give love and care to those in need.