On 29th December 2018, Zhushu Church in Xiamen, Fujian province held the third marriage thanksgiving service for the couples in the church to celebrate their gold, diamond or platinum wedding.
An old Chinese saying goes, "Wish to win one's heart, and stay with the one until the end of life". However, it is only the God-made marriage that endures. There are 73 couples in Zhushu Church having their platinum wedding ( 70th anniversary), 16 couples for diamond wedding (60th anniversary) and 54 couples for gold wedding (50th anniversary). The church held the most solemn wedding ceremony for these couples to let them walk the red carpet again and experience God's blessing of their marriage with grace.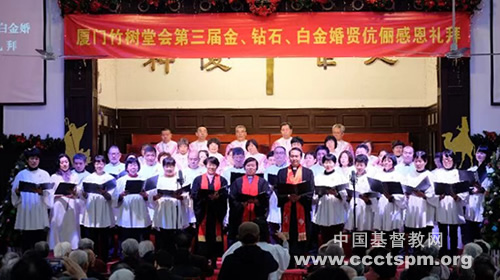 The couples wore boutonnières which were as bright as the warm sunlight of a winter's day, shinning upon those joyful faces on such a cold winter day. Rev. Chen Meiman and Rev. Lan Meihua led 73 pairs of couples walking into the church in the sequence of their marriage years. 98-year-old brother Huang Shunfa held 95-year-old sister Zhuo Ruirong's hand walking in front of the group.
Elder Qiu Xiaorong presided over the thanksgiving service and Rev. Chen Meiman gave the words of exhortation. On behalf of the couples present, Elder Zhang Ruizong and teacher Shen Zhuoqin gave a speech. Deacon Yao Guangwei as the representative of the younger generation, also made a speech. It was then followed by the singing of the hymn "The Lord is Deep in His Love" by all church members and staff. God's everlasting love has taken root in Zhushu Church and borne fruit in His family. People can find satisfaction and understanding in the marriage when God is with them and upholds them, so that the couples can walk hand in hand, shoulder to shoulder, in woe or weal, trust and encourage each other, and work together with one heart in following Christ.
The couples in church bear witness to the holiness and the blessing of marriage, and they are role models for the younger generations. They set up the "family alta" to pass down faith, affect lives with their lives and give honor to the Lord.