On the afternoon of May 13, 2019, all students and faculty attended a seminar entitled "Emergency and Rescue for CPR (cardiopulmonary resuscitation)" held on the second floor of Thanksgiving Church in Wuhan City, Hubei Province.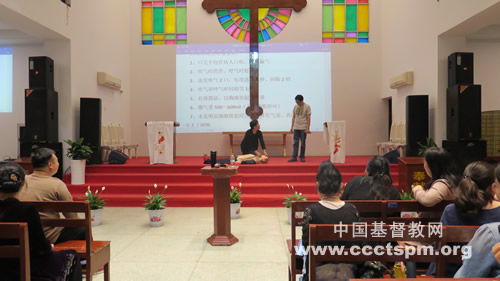 Doctor Liu Songqiao from the Love Clinic of the seminary was invited to give a lecture, explaining what cardiac arrest is, the reasons behind, clinical features and clinical diagnosis, along with how to discern CPR and the ratio of chest compression to artificial respiration.
In the following practice process, Doctor Liu asked students to come up to the stage, and instructed them step-by-step to practice the procedures of CPR. Doctor Liu was of great patience to give the instruction, which made the seminar become impressive and largely beneficial.
Zhongnan Theological Seminary is attaching importance to the cultivation of the seminarians in an all-round way, and expects them to achieve all-round development and become the blessings of the church in China.