Hosted by Xi'an Young Men's Christian Association (YMCA) and Dingxi County League Committee, and co-hosted by Shaanxi CC&TSPM, 2019 "Evergreen Forest" laypersons training camp for desert planting opened from July 31 to August 4, 2019 in Mu Us Desert, Yulin City, Shaanxi Province.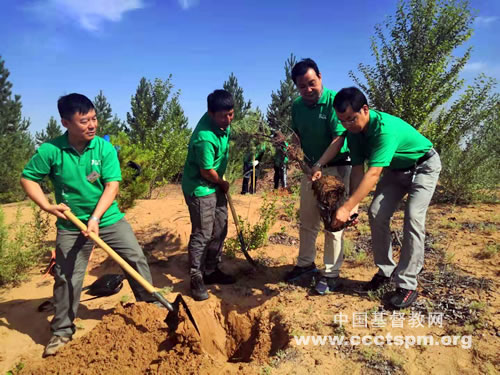 Over a hundred pastors and staff members from Shaanxi CC&TSPM along with young volunteers participated in the activity.
After an opening ceremony on the morning of 30th, all volunteers took part in an environmental-friendly workshop themed with waste reduction. Afterwards, they visited Shiguangyin Sand Control Museum. In the afternoon, they planted trees on the barren mountains.
The next day, they headed towards the "Evergreen Forest", planted trees in the desert, and built barriers for preventing soil loss.
The activity aims to raise participants' awareness of the influence that human behavior has had on the earth environment. Alarming environmental issues like desertification and extreme weather require a higher attention from all sectors of the community.
Also, young people from different cultural background are able to better know each another, establish friendship, care for others and cultivate the sense of serving the society.
Hiking through the Tengger Desert allows young people to challenge themselves with improved resilience and adaptability to difficulties, establish confidence, cultivate team work spirit and build leadership skills.
As a permanent green base for sand control, "Evergreen Forest" comprises barren mountain greening and desertification control. Xi'an YMCA has been in charge of it for 10 years. About 108 mu (7.2 hectares) of Mongolian Scotch pine and Chinese pine have been planted, which worth over CNY 200,000 in total.