On the morning of January 16, 2020, Shandong Jinan CC&TSPM organized an activity of "gifting spring couplets to the rural areas". Over 50 people including leaders and staff members of CC&TSPMs in counties and prefectures of Jinan City made the appearance.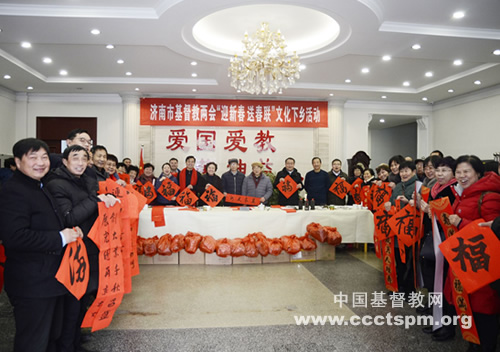 Rev. Li Fuzhen, president of Jinan CC delivered an address. He said that as a traditional Chinese festival, celebrating the spring festival in China has enjoyed a rather long history. Giving out spring couplets to welcome the spring festival is a way of extoling traditional Chinese culture via creating the atmosphere of friendliness, assistance and harmony, so as to manifest the Christian personality traits of tenderness, kindness, rationality and inclusiveness.
Nearly 6000 pieces of spring couplet written by calligraphers at the activity were given to over 300 churches from 15 rural churches in Jinan.