By February 1, 2020, churches in Zhejiang Province have donated over 6,534,300 yuan to local Red Cross and Charity Foundation. Among these, Hangzhou CC&TSPM donated 1,070,000 yuan; Ningbo CC&TSPM donated 1,1170,000 yuan; Jinhua CC&TSPM donated 5,809,000 yuan and 200,000 masks; Wenling CC&TSPM raised 300,000 yuan for purchasing ambulances for local hospitals.

On February 2, Shaanxi Hanzhong Church organised laypersons to deliver over 1,000 masks to church members, sanitation workers, food delivery men, policemen, etc. Ankang Church donated milk worth 5,000 yuan to sanitation workers. By February 6, Shaanxi churches have donated more than 1,260,000 yuan, 6,000 masks, 70 barrels of disinfectant, etc. for the frontline anti-epidemic work.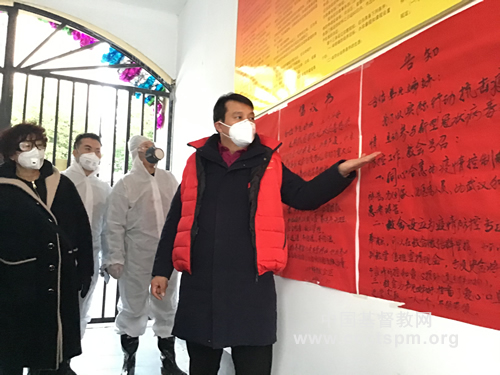 By February 3, churches in Gansu Province made donations of over 730,000 yuan via the Amity Foundation, Gansu Good Rain Foundation, and local authorities.
By February 5, churches and individuals in Guizhou Province have donated money and goods amounting to 828,282 yuan. Guizhou CC&TSPM bought 12,000 yuan of antiseptic wipes for those who fight the pandemic on the frontline.
By February 6, churches in Jiangxi Province have donated 2,789,437 yuan.
By February 6, Hunan churches have donated over 1,170,000 yuan. A church member made overseas order sending 100 N95 masks to the hospital via charity foundation. Masks and food worth over 20,000 yuan were also given to local police officers.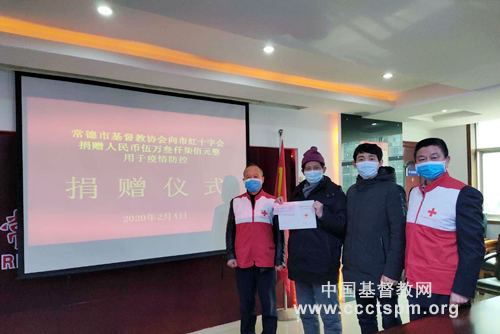 By February 6, Sichuan churches collected 2,380,000 yuan, together with masks and sterile supplies that amount to 1,100,000 yuan. Church hospitals like Luzhou Gospel Hospital, Nanchong Neighbour-loving Hospital, Community Health Centre of Dazhou Church helped local residents take precautions against the virus through testing temperature, distributing masks and disinfectant worth 800,000 yuan.
By February 7, churches in Hohhot City, Inner Mongolia Province have donated money and supplies that worth more than 760,000 yuan in total; 2,000 yuan bentos were given by Xianfu Road church-affiliated fellowship to local frontline anti-epidemic workers, while church members from Zhongshan Road Church distributed masks to the people in need for free.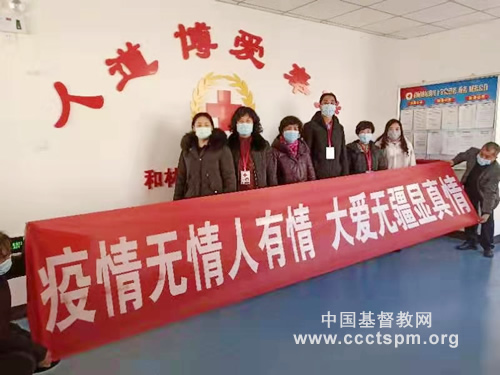 By February 7, churches in Fujian Province have donated a total amount of money and goods worth 5,484,100 yuan, along with 12,000 US dollars, 13,000 yuan alcohol, 174,000 yuan for masks, 1,000 masks and 30 tons of carrots.
So far, churches in Qingdao City, Shandong Province have raised 934,593 yuan in total for giving fruits, clothes, and masks to the frontline workers.
By February 7, Hubei churches have donated 670,000 yuan in total; with the help of enterprises and individuals from other provinces, Hubei CC&TSPM have donated nearly 4,440,000 yuan and goods like reagent around 8,000,000 yuan. Zhongnan Theological Seminary received over 20,000 masks from anonymous donors. The seminary decided to send most of the donation to Jiangxia Headquarters for Plague Prevention, and only kept a few.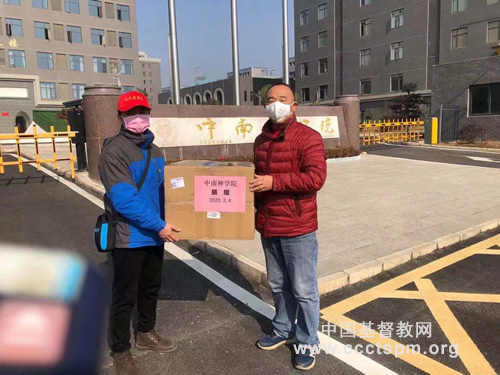 By February 8, Anhui churches have donated 2,920,000 yuan, 2 boxes of masks, 6,000 surgical masks, as well as disinfectant equaling to 28,100 yuan.
By February 10, churches and believers in Guangxi Province have donated 470,000 yuan in total, supplying the fund for purchasing goods and materials for the frontline medical personnel.
By February 10, Beijing CC&TSPM received the donations of up to 1,200,000 yuan from local churches and individuals. Some churches also donated surgical masks, heat recovery ventilators, etc.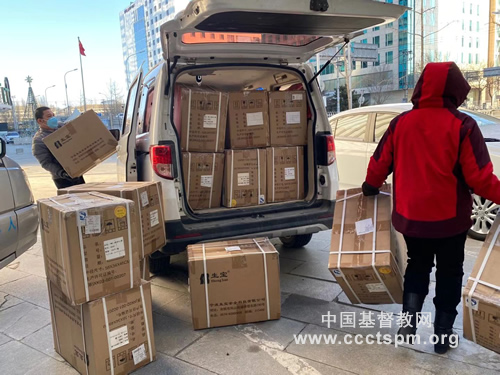 By the evening of February 10, Yunnan churches have donated 1,300,000 yuan, 6,100 masks, 132 moxa sticks, and 115 bottles of disinfectant, etc.