On January 26, 2021, Guangdong CC's Charitable Foundation conducted an event of providing subsidies to local students in Lishui Church, Nanhai District, Fushan City, Guangdong Province.
Recipients included 23 students of different grades, who come from households receiving minimum allowances and have been achieving high marks in their school performance. Each of them received 2,000 CNY and daily supplies.
On behalf of the Lishui Church, Elder Wu Yingyan hosted the donation ceremony and extended regards to the students.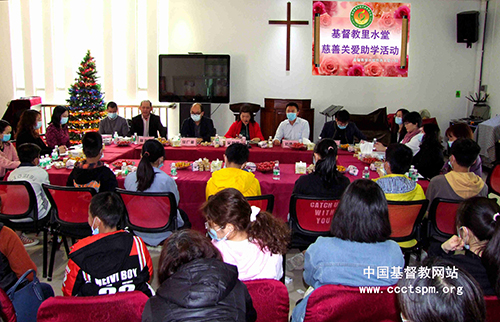 Elder Wu mentioned that Lishui Church follows the biblical teaching of "it is more blessed to give than to receive". The church has begun to subsidize students since 2014, in an attempt to help those in need.
Rev. Lin Enling, board chairperson of the Charitable Foundation, and Secretary General Rev. Lu Enjie also partook in the activity.
In his speech, Rev. Lin encouraged Christians in grass-root churches to carry forward the love of Christ, put themselves at society's service and care for the disadvantaged. Lishui Church's eight-year long student subsidy ministry has made a good testimony of honoring God and benefiting the people.
Rev. Lin hoped that the students can remain optimistic in the face of difficulties, give thanks in all circumstances, cherish the time and study assiduously.
(Translated and edited by Bei Sang)