The new year has come and all things renew. Students and faculty members of Guangdong Union Theological Seminary welcomed a new school semester on February 22, 2021.
Out of the safety concerns over epidemic prevention and control, students are required to have nucleic acid tests before returning to the campus. The new semester's check-ins had been carried out smoothly and been done by February 21.
The opening ceremony of the new semester was hosted by Rev. Cai Jianwei, vice president and academic dean of the seminary.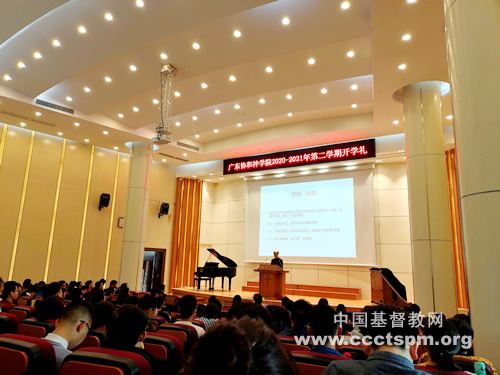 Vice Dean of Academic Affairs Dr. Yu Liang preached a sermon entitled "I Am Sending You". He gave exhortations to the students of Guangdong Union Theological Seminary, asking them to be steadfast as His faithful servants and to move ahead with gratefulness, strongness and courage.
President Rev. Xu Jieping gave the benediction at the end of the opening ceremony.
Despite the achievements against the epidemic, churches and seminaries still face daunting challenges of the new era. All students and faculty members shall be of one mind and make mutual efforts for His mission. The grace of God will be always with us to fulfil His wonderful work.
(Translated and edited by Bei Sang)