On June 13, 2021, Inner Mongolia CC&TSPM held an ordination ceremony in Ulanhot Church of Xing'anmeng.
Rev. Meng Ling'en, associate secretary general of Inner Mongolia TSPM, hosted the ceremony, and Rev. Tan Xiuhua, chairperson of Tongliao TSPM prayed. Rev. Wang Dawei, vice president and general secretary of Inner Mongolia CC preached a sermon titled "Being as a Good Servant". Rev. Shi Min from Ulanhot Church presented the candidates. The church's youth choir performed hymns of praise.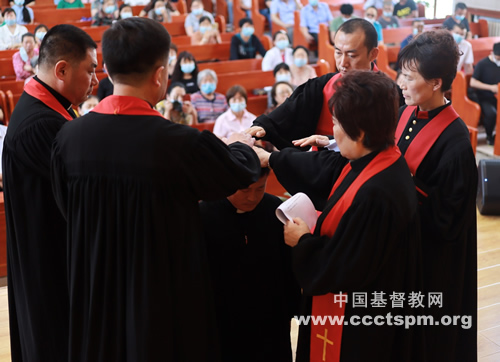 The ordaining pastors including Rev. Xie Baohua, Rev. Wang Dawei, Rev. Meng Ling'en, Rev. Liu Jiankun and Rev. Tan Xiuhua performed the laying on of hands for the ordained staff members. Rev. Xie Baohua, president and chairperson of Inner Mongolia CC&TSPM did the questioning of the candidates, ordination prayer, and then conferred stoles to them. Elder Bao Fulan, vice president of Inner Mongolia Bible School, bestowed Bibles upon the newly-ordained pastors and elders and Elder Zhao Guifen made a speech on behalf of the newly-ordained. The ordination ceremony ended up with the benediction given by Rev. Tan Jikun.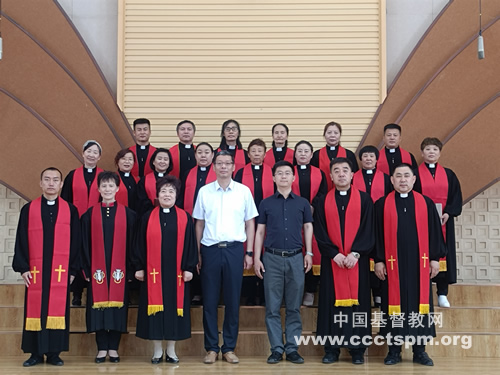 Six associate pastors Liu Jiankun, Song Zhiping, Guan Lijun, Zhang Yaping, Li Wenquan and Zhang Lijie were promoted to pastors. Three staff members were ordained as pastors, who were Lin Jia, Yu Minzhi and Tan Jikun. And six other staff members were ordained as elders, respectively Zhao Guifen, Yu Shuzhi, He Yuzhen, Wang Zhihui, Tao Jihe, and Xue Lihua.
Translated and edited by Bei Sang.