On May 9 and 10, 2023, Xuwen TSPM conducted thanksgiving worship services and dedication ceremonies for the new church buildings of Beili Church and Sanjia Church in Zhanjiang City, Guangdong Province. Participants included Rev. Fan Hong'en, Chairperson of Guangdong TSPM, and Rev. Guo Yun, President of Guangdong CC, etc. Nearly 500 people, consisting of clergy, fellow workers, brothers and sisters from churches and church-affiliated fellowships in Zhanjiang City and surrounding areas, also attended the events. Rev. Wu Bo, Chairperson of Xuwen TSPM officiated the dedication ceremonies.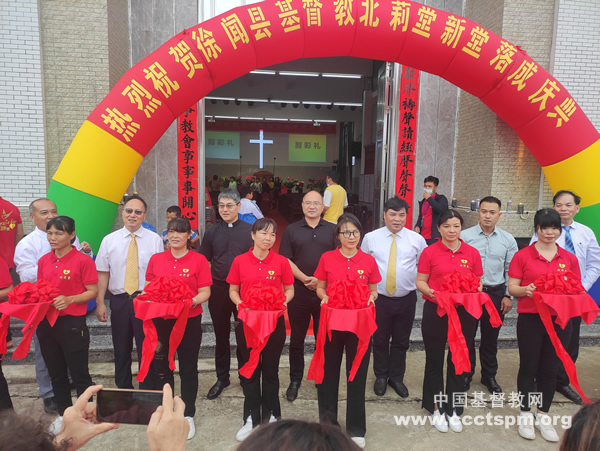 On behalf of Guangdong CC&TSPM, Rev. Fan Hong'en and Rev. Guo Yun respectively delivered congratulatory remarks in the dedication ceremonies and gave thanks to the great support from the authorities. They also fully affirmed the active and binding role of Xuwen TSPM in the Indigenization and Contextualization of Christianity in China, as well as the work in guiding the general believers to gather their strength for the new churches. They hoped that churches in Xuwen County would shoulder new responsibilities and bear new witness in the new era, further boosting self-construction, resisting heresies, safeguarding social harmony and playing their part in helping advance the modernization construction in Guangdong Province and common prosperity in Xuwen County.
The new church dedication marked a brand-new phase for the construction of Christian religious sites in Xuwen County. May the glory of this present house be greater than the glory of the former house!
Translated and edited by Bei Feng.