At 9 o'clock in the morning, 5th, September, 2018, a farewell ceremony for Elder Fu Xianwei was held in Shanghai Longhua Funeral Home. As one of the most prominent leaders in China Christian community, Elder Fu served as Chairman of TSPM and Nanjing Union Theological Seminary, Standing Committee member of the National Committee for the Chinese People's Political Consultative Conference (CPPCC), Deputy Director of Ethnic and Religious Committee of CPPCC, Vice-Chairman of China Committee on Religious and Peace, as well as a Consultant to the Board of the Amity Foundation.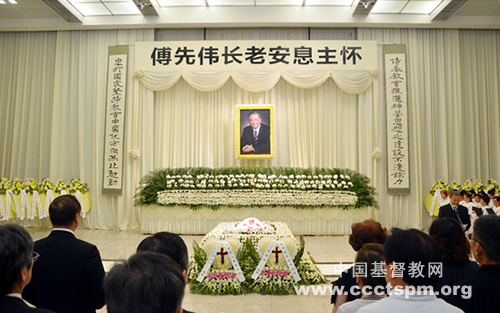 The main hall of the funeral home was in solemn silence, with Elder Fu lying in the middle of flowers. A photo of Elder Fu wearing genial smile and holding his praying hands together was hung high right on the middle of the main wall. The Elegiac couplet on both sides of the photo perfectly revealed the life of Elder Fu by saying 'Loyalty to the nation and commitment to the Indigenization and Contextualization of Christianity in China with tremendous diligence', 'Service at the church and Promotion of the Reconstruction of Theological Thinking with enormous efforts'. On top of the photo, it writes 'Elder Fu rests in the arm of the Lord'.
Nearly 8 o'clock in the morning, many church members and people from all walks of life had arrived at the funeral home one after another. The hall gathered over 500 people when the ceremony began.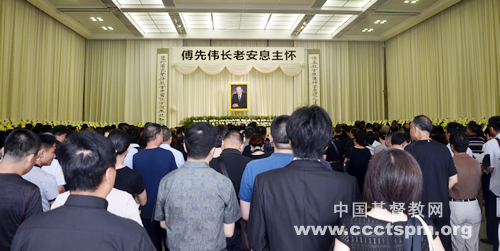 Elder Fu's daughter also made appearance and delivered gratitude remarks. She recalled his father's whole life serving the Lord and the church, and expressed her appreciation towards leaders and church staff presented.
The Sunday Choir of Shanghai Muen Church, where Elder Fu used to serve, sang the Hymn 'Near to the Heart of God'. Then the audience recited the Lord's Prayer together and Rev. Cao Shengjie, the Fifth President of China Christian Council gave benediction.
At length, singing with the Hymn 'Until We Meet Again', the audience in turns sent floral tribute to Elder Fu.
Dear Elder Fu, RIP!