On December 21, 2022, the 3rd International Seminar on Religions and Ecological Civilization was successfully convened online. The seminar, under the theme of "Harmony between Human and Nature", was jointly organized by the China Committee on Religion and Peace (CCRP) and the Religions for Peace (RfP-International). Rev. Xu Xiaohong and Rev. Wu Wei, vice chairperson of CCRP, Rev. Gu Mengfei, vice secretary general of CCRP, and Rev. Lin Manhong, CCRP member, were invited to attend the seminar.
At the meeting, Rev. Wu Wei read the written remarks from Mr. Pagbalha Geleg Namgyae, vice chairperson of the National Committee of the Chinese People's Political Consultative Conference and chairperson of CCRP. He emphasized that according to President Xi Jinping, the earth is a big family, and humanity is a community. Climate change is a common challenge that required mankind to work collaboratively in combating it. It was expected that religious leaders and worldwide academics work together on global ecological and environmental conservation so as to build a community of life for man and nature and guard our homeland together.
Rev. Xu Xiaohong's speech was read by Mr. Gu Mengfei. The speech mentioned that Christianity in China has been continuously delving into and compiling ecological ethics in the Bible, actively promoting the reconstruction of theological thinking, and striving to promote the ecological literacy of Christians. At the same time, CCC&TSPM would take the construction of ecological civilization as an important task of social service work. It would advocate, encourage, and support churches to carry out various environmental protection projects. Through daily practices, we could make a positive contribution to this beautiful country where we were born and bred.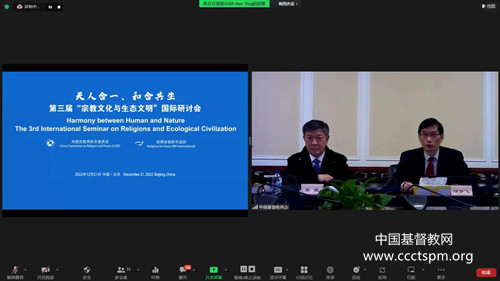 More than 60 academics and representatives of Buddhism, Taoism, Islamism, Catholicism, Christianity, Judaism and Hinduism from nearly 20 countries in Asia, America, Europe, Africa and Oceania attended the seminar. They spoke highly of the philosophy of harmony between human and nature in traditional Chinese culture, and highly valued China's commitments and practical actions in addressing global climate change. They also highly affirmed the flagship projects on environmental protection under CCRP and Asia Conference of Religions for Peace (ACRP).
Translated and edited by Bei Sang.