On 1st November 2018, an art exhibition on 'Christian Culture and Beauty of this Era' was held in the social center of the Friends of People's Political Consultative Conference in Haishu District, Ningbo, Zhejiang Province. It showcased over 50 pieces of artwork from over ten artists, including 10 pieces of calligraphy, 20 traditional Chinese painting, 5 oil paintings, 5 acrylic paintings, and 11 photos. The exhibition will be open until 18th November.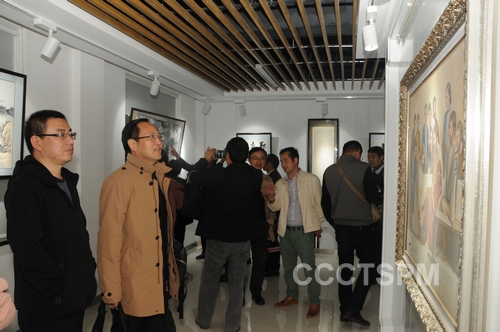 Leaders and members of provincial, municipal and district-level CCs, clergypersons from approximately 30 local churches, the artists and over 40 believers came together to attend the opening ceremony. Rev. Pan Xingwang also came to celebrate this event. In the pre-exhibition study session, he shared his in-depth understanding on the challenges and opportunities facing the Christianity in China in this new era and the contextualization of Christianity in China. His speech was inspiring to participants of the session.
This art exhibition is an attempt of Haishu CC&TSPM to encourage local painters, calligrapher, and photographers to use visual art as a medium to express the heart and soul of Chinese Christians in order to promote the indigenization and contextualization of Christianity in China. It is also aimed to extol the beauty and passion of this age. The hope is that in doing so, Christian spirits like universal love, holiness, light and virtues like faith, self-renewal, self-improvement can be manifested as well.