On the morning of 25th December, 2018, Shenhua Church on Xinxing Street, Yanji City, Jilin Province held the "Love Rice" ceremony to deliver donated rice to the needy. "Love Rice" is a charity program launched by Shenhua Church in 2011. That year, Yanji Church celebrated its 100th anniversary in September. During the preparation of the celebration, Senior Pastor Rev. Liu Doufeng proposed that Shenhua Church should encourage church members to donate rice for the needy one month before Christmas and then distribute rice on Christmas Day.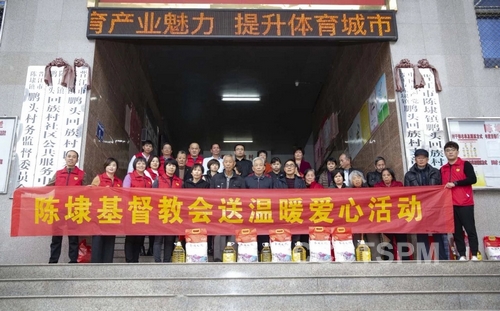 This year, the church received 364 bags of rice, each weighing 50 kilograms and worth up to 44,000 RMB in total. Church staff from Korean language fellowship, Mandarin fellowship and the fellowship for the disabled together with representatives from Minchang Community, Xinxing Road of Yanji City delivered the "Love Rice" to 364 poor local families.
Rev. Liu Doufeng said that the church should never be isolated from the society. Instead, we need to uphold the Christian spirit of self-sacrifice, actively engage in the construction of a harmonious society and make contribution to local communities. Church members said that celebrating Christmas is to commemorate God's love for man, and distributing "Love Rice" is to demonstrate our love for one another. It is truly of greater significance to donate "Love Rice" on Christmas Day.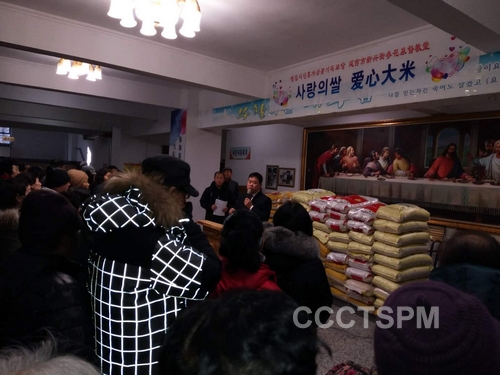 On the afternoon of 25th December, 2018, it was a cold rainy day. Chendai Church in Jinjiang, Fujian Province held charitable activities in the Pengtou Village Committee building. The church delivered 10 kg rice, 5 kg edible oil and 500 RMB to each of the 20 low-income families. In recently years, Chendai Church held several charitable activities in Haiwei Village and Huatingkou Village. In doing so, the church has displayed the love of Christ and care for the disadvantaged, which was highly praised by local villagers.