On the afternoon of 8th January, Shanghai Christian Council (CC) and Committee of Three-self Patriotic Movement (TSPM), together with Shanghai Ethnic and Religious Affairs Administration (ERAA) jointly held the 2019 Work Conference on Foreign Language Service Ministry. Du Yuping, Deputy Director-general of Shanghai ERAA was presented and delivered a speech. Attendees also included leaders from the Foreign Affairs Division and Christian Affairs Division of Shanghai ERAA, relevant regional Ethnic and Religious Affairs Office, Shanghai CC&TSPM and both Chinese and foreign pastors and leaders from 9 churches and church-affiliated fellowships that have foreign language services in Shanghai.
The conference was hosed by Xiu Yanbin, Director of the Foreign Affair Division, Shanghai Municipal ERAA.
Du Yuping first extended best wishes for the New Year to all attendees.

He then stressed the significance of creating a harmonious, inclusive and liberal environment so as to ensure better management and operation of foreign language service in Protestant church.
Conscientiously implement the newly-revised Regulations on Religious Affairs and the upcoming Regulations on Shanghai Religious Affairs, and further improve the regulation on foreign language service in accordance with the law;
Actively utilize the mechanism of joint meeting on foreign language service to hear views of all sides, summarize achievements of the meeting and reach consensus on how to regulate foreign language service;
Offer guidance on improving self-regulation to ensure public security during foreign language services;
Work hard and improve the ability of dealing with foreign religious affairs, build up a team with high level skills in policy-making, regulation and intercultural communication.
During the conference, the new leadership members of Shanghai CC&TSPM met with church staff responsible for the foreign language service, who reported the activities and management work carried out in 2018. Shanghai CC&TSPM leaders with leaders from local Ethnic and Religious Affairs Offices, relevant churches and church-affiliated fellowships. A publicity film named Christianity in Shanghai was also released and presented at the Conference.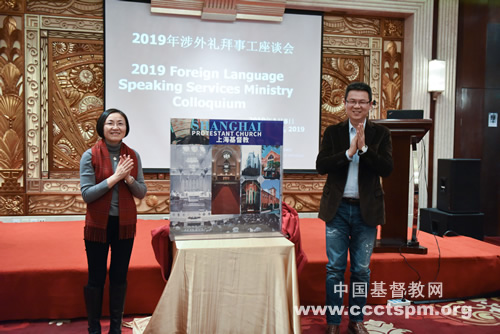 Rev. Xu Yulan, Chairman of Shanghai TSPM pointed out in her speech that over the past two decades, the foreign language service in Shanghai has extended from single language to multi languages, from merely religous gatherings to public activities intergrated with local communities, forming a beautiful sceneary in the church in Shanghai. In the future, Shanghai CC&TSPM will continue to improve the management and operation of foreign language service, evaluate and examine the service, cultivate professionals for foreign affairs, actively guide the integration of foreign language service and local community and encourage participants to engage in public and charitable affairs.
Ever since Shanghai Community Church began the first English speaking service in 1996, foreign language service has a 22-year history in Shanghai, with total 9 foreign language service locations that provide English,Korean, German, Spanish, Cantonese (one of the dialects in China) and other foreign language service both inside the church buildings and in temporary sites.
Nearly 8000 foreigners attend the non-denominational union worship service every week. These services have effectively meet the religous needs of expatriate Christians living in Shanghai and have a positive role to play in driving the development of the city and making it more international.