From April 8 to 12, 2019, Gansu CC&TSPM held training for social service laypersons in Longnan City. 90 local staff members received the training.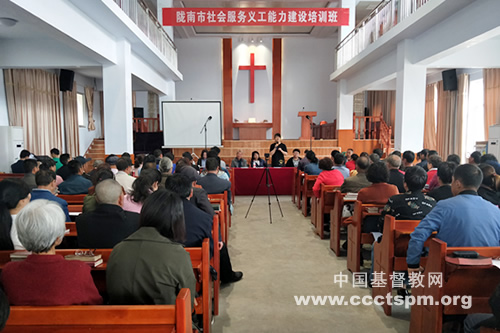 Jointly organized by Gansu CC&TSPM and the Amity Foundation, the training aims at encouraging churches and church members to fully utilize both human and spiritual resources, care about the needs of the disadvantaged groups in the society, provide necessities for them and help them build up a positive attitude towards life.
Senior teachers from the Amity Foundation gave lectures. Based upon Biblical teachings and combining current social situation, they helped raise churches' awareness of participating in social service, and inform them of the attitude and ways to serve when practicing the love of the Lord and caring for the needy around us.
Through this enlightening training, participants further realized the significance of carrying out social care ministries in the church, and obtained basic techniques and methods. This allows churches to improve their awareness and capability of actively serving the society. And it also serves the purposes of Gansu CC&TSPM's poverty alleviation ministries.