On the evening of May 13, 2019, theological students of Nanjing Union Theological Seminary (NJUTS) attended the second reading club with the theme of "Read former NJUTS pastors' articles, Carry forward NJUTS ethos" in the seminary's auditorium.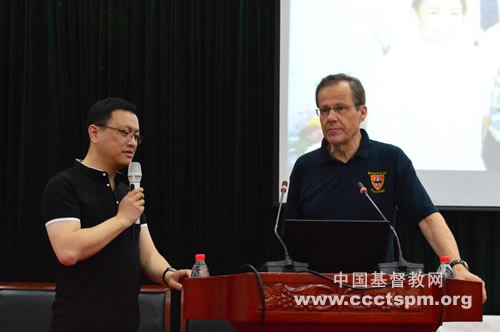 Dr. Mikka Ruokaren, visiting professor of the Systematic Theology School of NJUTS was invited to give a lecture, sharing theological contributions made by Bishop K. H. Ting.
The reading club was organized by the study department of Students' Union. Mr. Zhou Xuebin was the interpreter.
Prof. Ruokaren first shared a few photos and stories between him and Bishop Ting. Prof. Ruokaren described Bishop Ting as open-minded, wise, far-sighted and extremely friendly.
He then introduced Bishop Ting's two main theological thinking. The first one is the theological idea of the Trinity and the Cosmetic Christ. The second is natural theology. Bishop Ting mentioned that man can discover God's general revelation from observing nature, and among all His rules, "love" is the dominant rule.
Therefore, Bishop Ting proposed the theological thinking of "God is love" in his work, and he believed that man should follow this rule through actively participating in social services and charity ministries to honor God and benefit the people.
At the Q & A session, students actively asked questions and Prof. Ruokaren answered carefully. Both enjoyed a warm atmosphere.