From 15 to 16 July, 2019, Dunhua CC&TSPM held 2019 deacon training in Yanbian Korean Autonomous Prefecture, Jilin. 276 people including leaders and deacons from churches and church-affiliated fellowships in the city attended the training.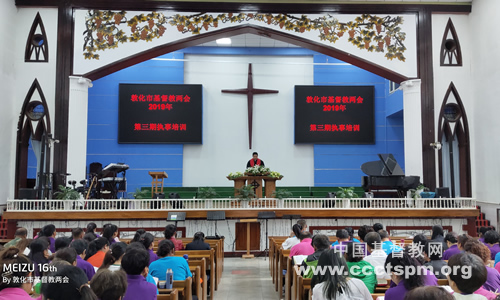 Highly valued the training for the pastoral teams in grass-root churches and church-affiliated fellowships, Dunhua CC&TSPM began to organize trainings targeting at deacons of all churches and meeting points in Dunhua, ensuring to build reliable pastoral teams. Certificates for the deacons in Dunhua CC&TSPM were given by Dunhua CC&TSPM after the trainings.
Dunhua CC&TSPM held the training every three months and organized an examination annually. The trainings not only allow the deacons to increase their knowledge of the Biblical truth and strengthen their faith, but also promote the unity of the churches and gathering points in Dunhua to make Dunhua CC&TSPM become more cohesive.
After the opening ceremony of the training, participants began to study in groups. This year the training is themed after "Obedience".
Rev. Wang Daiyu, chairman of Dunhua TSPM urged all deacons to continuously correct their faith with the truth, respect the God-made order as devoted stewards, and pass over God's love to one another through serving.