On December 7, 2019, Ergong Church conducted an ordination in Urumqi, Xinjiang Province. Clergies, deacons, church members, brothers and sisters from 22 churches came to Ergong Church to praise and give thanks to the Lord.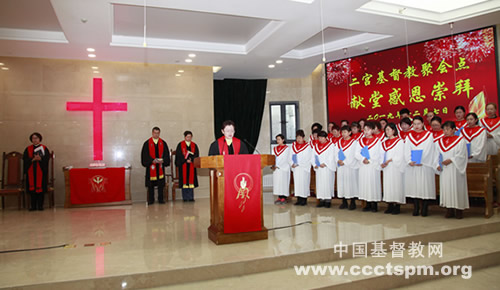 Rev. Zhang Shuzhi from Ergong Church hosted the thanksgiving ordination. Rev. Fan Chenguang cited verses from Luke 6:34-43 and Psalm 118:22-29, sharing a sermon entitled "Broaden the Mindset of Life" to encourage the congregation to be open-minded, and see the needs of others, the society, the country as well as the nation; to look upon the heaven with confidence, rather than self, environment and people, and prepare oneself with confidence to be as the vessel of the Lord; to expand one's life and see from inside, sacrifice our time and give it all to the Lord on the very day.
Rev. Zhang Shuzhi briefly recalled the development and its history since it was built. Since 1970s, Ergong Church started from a dozen-people-family-gathering to the congregation of thousands. The church has been relocated for nine times and each has gone through the arduous but gracious path.
The new church is merely over 200 meters away from the original site, and the two-story building covers an area of 1231 square meters. The church has two services every Sunday.