On the occasion of the coming of the Chinese New Year, a six-person team led by Rev. Wang Jun, president and chairman of Shaanxi CC&TSPM went to cities of Baoji, Xianyang, Xi'an, etc. giving care to senior pastors and predecessors in the province from January 9 to 10, 2020.
The team members first headed to the city of Baoji, which is over a thousand kilometers away, to visit Shilipu Church and Fufeng County Church on January 9. They paid visits to Rev. Wang Binghui, former vice president and chairman of Shaanxi CC&TSPM and Elder Fan Kexiao, the former general secretary.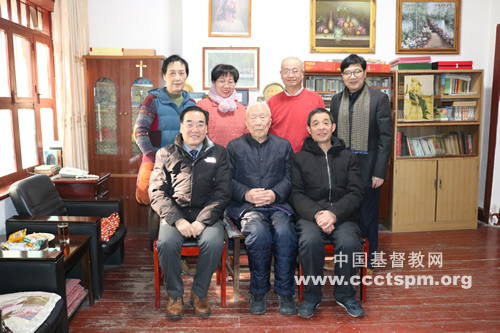 Later, the team went to the home of a senior pastor named Xue Jinghui, aged 98, in Xianyang City. Rev. Wang Jun learnt about the physical status of Rev. Xue and his living condition, and offered subsidies to the senior pastor on behalf of Shaanxi CC&TSPM and the team.
On the 10th, the team visited senior pastor Rev. Wen Jizhong and his wife in Gaoling District Church in Xi'an. In the afternoon, they arrived at Sanyuan County, Xianyang City, where senior pastor Rev. Zhang Guanru lives. Although Rev. Zhang is already 97 years old, he is feisty and clear-minded. At last, they also paid a visit to Teacher Tian Quande, form general secretary of Young Men's Christian Association in Xi'an.
Through the visits, Rev. Wang Jun not only brought care to the senior pastors, but also availed of the chance to reach local churches, knowing about the church development and exchanging the ministries.