From March 26 to 27, 2020, Liangzhou District CC in Wuwei City, Gansu Province organized a spring sand protecting activity in eastern Liangzhou District. Nearly 40 brothers and sisters participated in it.
The task involved building sand-fixing barriers on the dunes in preparation for the future desertification control and forestation, serving the purpose of stabilizing the dunes and protecting them from desertification. It needed to press straws on the flowing dunes completely without vegetation to create 2x2 square meters of straw checkerboards overspreading the whole dune. Without any machines or equipment to help, such arduous and slow work relies on manual labor.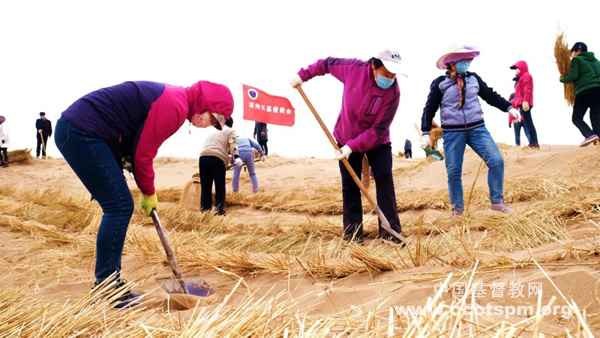 Brothers and sisters worked from 8 a.m. to 5 p.m. in the desert, and conscientiously followed the instructions taught by technical personnel, drawing checkerboards with ploughes, paving straws and pressing sand with shovels. They worked so hard because they know that "whatever you do, work at it with all your heart as working for the Lord, not for human masters". (Colossians 3:23)
After two days of work, brothers and sisters finished approximately 120 mus (a Chinese unit of area) of sand barriers of straw checkerboards. They took actions in honoring God and benefiting people through actively participating in desertification control and environment conservation.
(Translated and edited by Bei Sang)