To promote local coworkers' comprehensive quality and their knowledge of policies and regulations, Yunnan CC&TSPM conducted the "2020 Indigenization and Contextualization of Christianity in China & the 16th Pastoral Training Class" from August 4 to 7, 2020.
60 pastors and elders attended the training. They are from different ethnic groups, including Han, Lisu, Jingpo, Yi, Miao, Dai, Miao, Wa, Lahu, etc., and are from churches in Chuxiong Prefecture, Dali Prefecture, Dehong Prefecture, Diqing Prefecture, Lijiang City, Baoshan City, and Lincang City.
Before the training, participants filled in the letter of commitment regarding their health information, and held the green health QR codes within 14 days. During the training days, they took temperature tests every day before entering the classroom.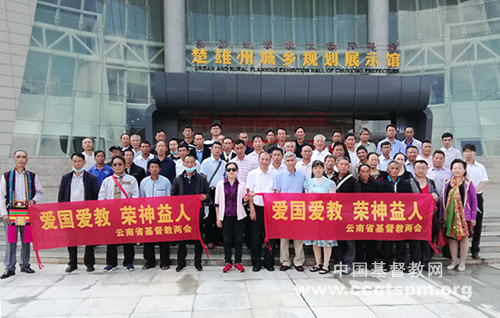 The opening ceremony kicked off on the morning of August 4, hosted by Mr. Yang Xu, secretary general of Yunnan TSPM. Leaders of Committee for Ethnic and Religious Affairs in Yunnan and Chuxiong Prefecture, and Yunnan CC General Secretary Rev. Shao Liliang were present and delivered speeches.
They mentioned that 2020 is an unusual year that the outbreak of the pandemic has been inflicting so many nations in the world. During this time, Yunnan CC&TSPM has played its part in combating the virus through donating money and supplies.
Futhermore, under the guiding of the Bible and relevant policies and regulations, Yunnan CC&TSPM has organized several trainings, and been adhering to the indigenization and contextualization of Christianity in China while considering the actual situation in Yunnan churches.
(Translated and edited by Bei Sang)