On the morning of August 9, 2020, Shandong CC&TSPM held an ordination ceremony for 13 coworkers in the Center Church of Linyi CC&TSPM.

Rev. Zhang Jianshun, vice president of Shandong CC and director of Linyi TSPM, presided over the ordination. Deputy Director Rev. Wang Yuanping prayed for the congregation. Shandong CC General Secretary Rev. Wang Mengkun gave a sermon entitled "Being the Genuine Disciple of Jesus Christ", invoking the verses of the Gospel of John. He encouraged the coworkers and the congregation to earnestly follow the Biblical teaching, love one another, serve diligently and bear abundant fruit.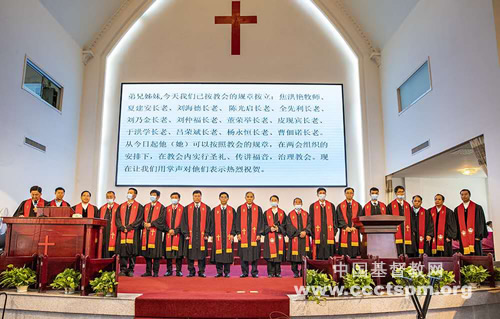 Afterwards, the pastors performed the laying on of hands for 13 coworkers. They ordained Jiao Hongyan (female) from Gaoxin District as pastor; ordained Xia Jian'an, Liu Haide, Chen Guangqi, Quan Xianli, Liu Naijin, Liu Zhongfu from Lifei County, Dong Rongju, Pi Xianbin, Yu Hongxue, Lv Rongbin from Tancheng, Yang Yongheng from Linshu County, as well as Cao Dianruo from Lingang District as elders. The newly-ordained pastor and elders were bestowed Bibles and wore holy garments.
The ordination ended with the benediction given by the newly-ordained pastor Rev. Jiao Hongyan.
(Translated and edited by Bei Sang)