On September 7, 2020, Rev. Zhang Jian, vice president & secretary general and vice chairman & general secretary of Sichuan CC&TSPM, led a team of staff members visiting Wutongqiao District Church and offering regards and 10,000 CNY as disaster relief fund.
It is learned that many places in Sichuan have been suffering heavy rainfalls since late August. Specifically on August 18, Wutongqiao District, Leshan City welcomed the largest flood peak since the hydrologic records began. Wutongqiao District Church, at the Xinshen Street, was also severely inflicted by the flood. The accumulated mud reached nearly half meter inside the church; outside the church, litters piled up the streets.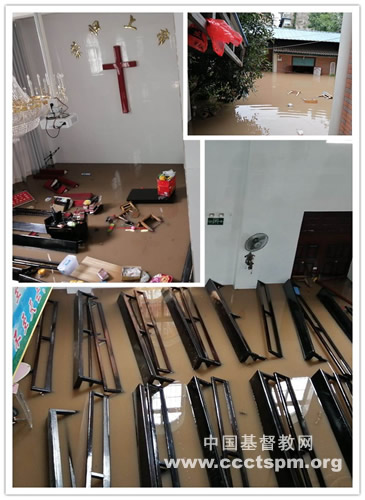 After the flood, Rev. Xie Tao, chairman of Leshan TSPM, led a team at the first moment heading towards Wutongqiao District to visit local brothers and sisters, and the church affected by the disaster. They also donated 10,000 CNY. Rev. Xie encouraged brothers and sisters to make immediate actions by cleansing and sterilizing the church while performing epidemic control and prevention measures as the premise, preventing the spread of the virus after the floods.
Fellow workers, brothers and sisters from many places also prayed for the flood-inflicted church and people. Rev. Liao Xiaoqin from Luzhou TSPM led brothers and sisters to pray and make donations. They raised 30,000 CNY in total for Wutongqiao District Church, which inspired the confidence of the people.
(Translated and edited by Bei Sang)