On the morning of December 18, 2020, Jilin Bible School held the 2020 graduation ceremony in Holy Love Church, attended by leaders of Jilin CC&TSPM and the Board of Governors for Jilin Bible School, students and faculty members of the Bible School.
Rev. Liu Xinggang, vice president of Jilin Bible School, hosted the ceremony. All the attendees sang Miracles together, expressing their appreciation towards God for His constant favor and guiding.
During the donation handover ceremony, Rev. Ren Dazhong, president & chairman of Jilin CC&TSPM, and chairman of the Board of the Bible School, delivered 350,000 CNY from churches in Jilin to President Rev. Hao Liyun in support of the development of Jilin Bible School.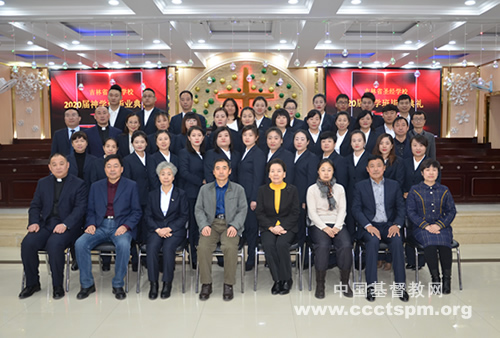 Until now, the Bible School had received over a million from "Theological Education Donation Day 2020". Churches in Jilin Province have taken active part in supporting the running of Jilin Bible School.
Afterwards, the academic dean Rev. Wan Zhenling announced the name list of the graduates. Rev. Hao Yunli conferred them with graduation certificates. Li Linlin and Meng Jia, teachers of the school, donated the graduates with books on behalf of the Bible School. The graduates prepared gifts with gratitude to the Bible School as well.
Finally, all the attendees sang Song of I Love Chinese Churches together. The graduation ceremony then was concluded with the benediction by Rev. Ren Dazhong.
(Translated and edited by Bei Sang)