On April 26, 2021, there was a ceremony for the laying of the foundation stone of Manzhouli Church and its affiliated office building in Hulunbuir City, Inner Mongolia Autonomous Region. Over 100 brothers and sisters from Manzhouli Church assembled for the ceremony.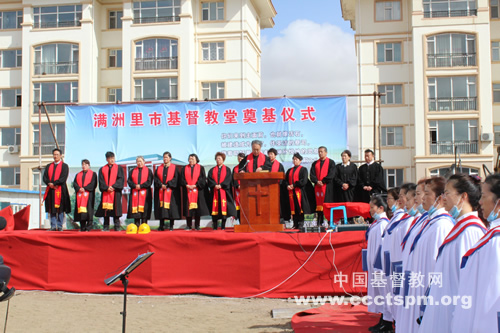 Rev. Gao Zhigang, vice president and secretary general of Hulunbuir CC&TSPM hosted the ceremony. Rev. Wang Lihua, vice president of Inner Mongolia CC, president & chairperson of Hulunbuir CC&TSPM gave a sermon titled "The Wise and Foolish Builders".
Manzhouli Church choir performed hymns "This Is the Day the Lord Has Made", "I Lift My Eyes to the Hills", and "The Foundation of the Church". At the ceremony, Rev. Zhang Shukai, director of the management committee of Manzhouli Church, together with Brother Li Shengjing, held a hand-copied Bible by staff members of the management committee and those of Hulunbuir CC&TSPM, and placed it under the foundation stone as a commemorative item. Other attendees then laid soil on the stone in turns.
Twelve clergy from eight banners, cities and districts of Hulunbuir City prayed and gave the benediction respectively for the construction of the church. Afterwards, people in attendance also gave offerings.
Translated and edited by Bei Sang.