On September 5, 2021, Rev. Fan Hong'en, chairperson of Guangdong TSPM, was invited to preach in an ordination ceremony held by the Union Association of Christian Sheun Tao Church in Hong Kong & Macao District.
During the Sunday service, Rev. Fan Hong'en gave a sermon entitled "A Evangelist with No Name". He exhorted the audience to pursue biblical truth, establish pure faith and spread pure gospel.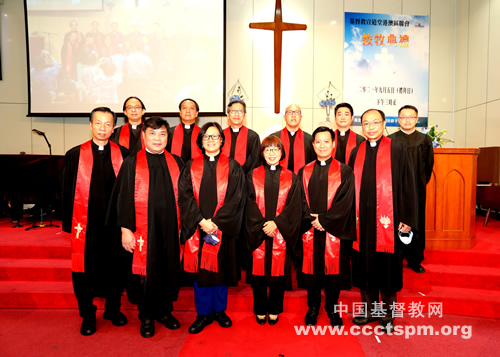 At 3 o'clock in the afternoon, Sheun Tao Church conducted the ceremony, ordaining four staff members as pastors. Rev. Fan Hong'en, as the officiant of the service, was also among the ordaining ministers who performed the laying on of hand to confer priesthood to one of those new pastors.
This ordination ceremony opens up a new phase for the cooperation of sacraments and a closer exchange between the churches in Guangdong and Maocao. This will be conducive to promoting the unity of churches in the mainland of China, Hong Kong, Macao and Taiwan, thereby better serving the economic growth in the Great Bay Area and exerting positive influence on religious and cultural exchange and cooperation.
Translated and edited by Bei Sang.