Located in the remote hill village of Xuwen County, Zhanjiang City, Guangdong Province, Mumian Church held a foundation stone-laying ceremony for the new building construction on November 11, 2021.
Rev. Fan Hong'en, Chairperson of Guangdong TSPM and Rev. Lei Yuming, Executive Vice President of Guangdong CC were invited to the ceremony. Rev. Lei preached a sermon titled "A House of Prayer for All Nations". Rev. Fan made a speech and gave the benediction. Rev. Wu Anhao, Chairperson of Zhanjiang TSPM was also present to deliver remarks.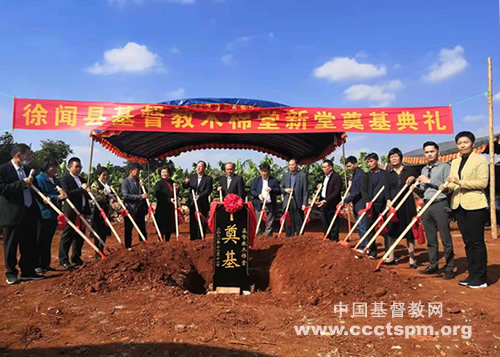 There was an assembly of 120 people attending the ceremony, including church leaders and pastoral staff from over 30 churches and church-affiliated fellowships in Xuwen County and in Zhanjiang City, members of Theological Education Fund in Xuwen County, and choir members from three churches in the county.
Mumian Church, first built in 1929, is a small village chapel. The original site covered an area of 720 square meters, and the church building covered 90 square meters.
With the support of local government and provincial CC&TSPM, as well as the prayer of clergies and church members, Xuwen TSPM has been working on the local church building project. Church believers have raised more than 200,000 Yuan over the years, and a two-story new church building, covering a total area of 290 square meters, is planned to be built.
Translated and edited by Bei Sang.