On the morning of June 21, 2022, Xinzhou CC&TSPM conducted an ordination ceremony in Dongwang Church in Xinfu District, Xinzhou City, Shanxi Province.
Wang Chengjiang from Dongwang Church and Zhang Xiuzhen (female) from a church in Dai County were ordained as pastors.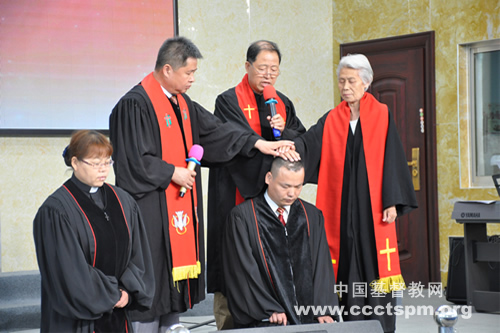 The ordination ceremony was hosted by Rev. Li Yantang, vice chairperson of Shanxi TSPM. Rev. Zhang Enlai, president of Shanxi CC, preached a sermon. Rev. Xiang Baolian, president and chairperson of Xinzhou CC&TSPM, gave exhortation to these two new pastors. The three pastors together performed the laying on of hands.
After the ceremony, the two newly-ordained pastors spoke in turns, expressing their willingness to develop Christianity in the Chinese context, and love the country and the church. They would like to serve as the servants of the Lord in this new era, fulfill their missions, live up to the expectations, and shepherd His flock.
On June 25, Shandong CC&TSPM held an ordination ceremony in Shuangjie Church of Liaocheng City, ordaining 22 church workers as clergy, including 8 pastors and 14 elders.
Among the 8 pastors ordained at the ceremony, six are from Liaocheng City: Feng Yanhua (female), Xu Qiang, Xiao Lianying (female), Zhang Qunfeng, Xu Xiaoyan (female) and Zhou Changju (female); and two are from Heze City: Zhang Fei (female) and Liu Xiuzhang.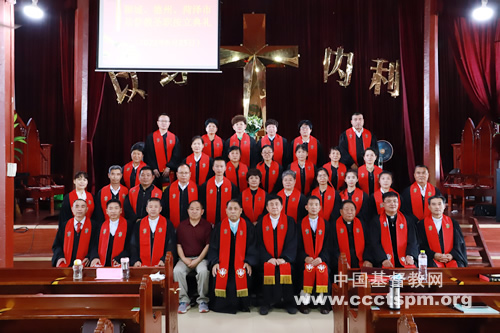 Among the 14 newly-ordained elders, nine are from Liaocheng City: Ma Shanshan (female), Jia Shoucai, Gong Xiumei (female), Wang Aifang (female), Yin Xiaoxia (female), Xu Yueling (female), Tang Guiqiu (female), Liu Yuying (female) and Li Guiying (female); three are from Heze City: Gao Haitao, He Suping (female) and Zhu Yuanju (female); and two are from Dezhou City: Niu Yongmei (female) and Jia Lanzhi.
Translated and edited by Bei Sang.