On September 23, 2022, Hubei CC&TSPM held an ordination ceremony in Xiantao Church in commemoration of the 72nd anniversary of the Three-self Patriotic Movement of Christianity in China. Approximately 200 clergy and believers from churches in Xiantao City attended the event.
Rev. Hu Fan hosted the ordination. The congregation sang the hymn The Church's One Foundation together as a prelude to the ceremony. Rev. Yang Junzhi led the prayer. Rev. Zhu Zhiguo preached a sermon titled "Being a Shepherd Who Raised His Hands". He gave words of exhortation to all newly-ordained clergy, telling them to fulfill the duties of clergy and do church work with a devoted mind so as to become the blessings of the flock of God.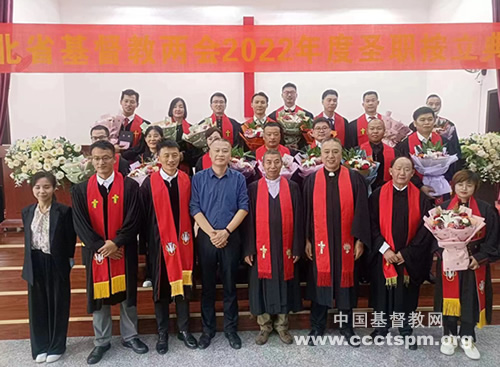 Those to be ordained as pastors in this ordination included Gao Yang, Zhang Zhifu, Yang Bin, Feng Nian, Liu Fengxian, and ten others. Tao Huiju was ordained as an elder. The ordination team gave gifts to all new pastors and elder. On behalf of the new clergy, Rev. Cui Hui addressed a speech and Rev. Gao Yang gave a benediction.
Translated and edited by Bei Sang.