On February 12, 2023, Yunnan CC&TSPM held an ordination ceremony at its directly affiliated Trinity International Church. Over 1,000 church members came to witness this ceremony.
Rev. Deng Jianwei, president of Yunnan CC, presided over the ordination ceremony. Rev. Luo Deshun, vice chairperson of Yunnan TSPM, led the prayer.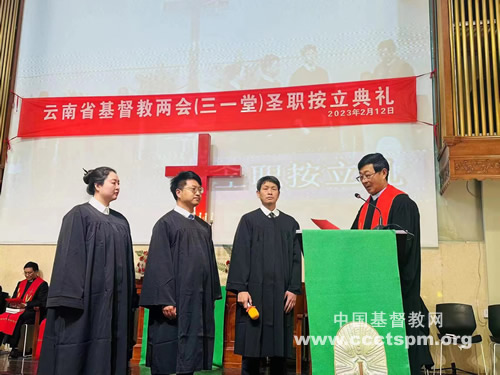 The ordination team ordained Ding Biaolun (Yi ethnic group), Yu Jincai (Lisu ethnic group) and Wang Hongyu (female, Han ethnic group) as pastors, and bestowed stoles, certificates as well as Bibles upon these newly-ordained clergypersons.
On the morning of February 17, Fujian CC&TSPM held an ordination ceremony at Chengguan Church, Jianyang District, Nanping City. Nearly 400 pastoral staff and representatives of church members in Fujian Province assembled to witness this sacred moment.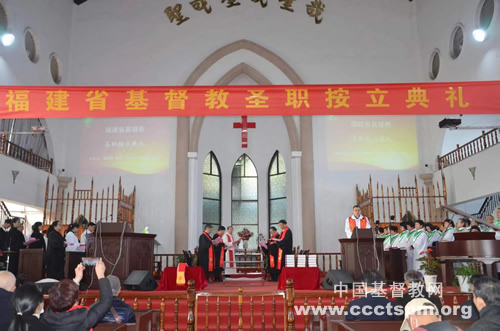 The ordination team performed the laying on of hands for all 15 ordinands, and bestowed stoles and Bibles upon them. On behalf of the newly ordained pastors, Rev. Yu Dongxiao made a speech. She said that she would endeavor to become a role model for other believers in words, acts, love and faith, and learn to be a good shepherd with vision, faithfulness and kindness. Representing the new pastors, Rev. Yang Shurong gave the benediction.
On the morning of February 18, Shaanxi CC&TSPM conducted an ordination ceremony at Wangyi Church, Tongchuan City. Those to be ordained as pastors included Zhou Junmei (female), Fan Chuntao (female), Jiang Yuqun (female) and Guo Huiping (female). Bu Lingzhi (female), Wang Hongxia (female), Ren Juanting (female), Du Xiuhong (female), Zhang Xiqin (female), Zhang Ling (female) and Zheng Qiaohuan (female) were ordained as elders.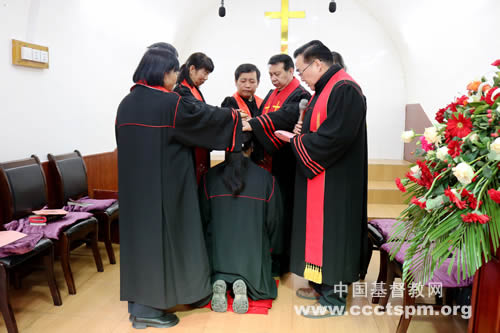 Translated and edited by Bei Feng, Tian Tian.