CCC&TSPM held the launching ceremony of basic illness prevention, first-aid training, and gratuitous treatment for children at Tujia Primary School (TPS), located at Xuanhan Country, Sichuan Province on the morning of September 21st, 2017. Rev. Xu Xiaohong, Vice-Chairman and Secretary General of TSPM, took part in the ceremony with Rev. Zhang Xiansheng, President of Sichuan Christian Council. Besides, people who attended the ceremony included Rev. Zhang Jian, Vice-Chairman of Sichuan TSPM; Mr. Sun Xiaoyan, Vice-President of Dazhou Bureau of Religions Affair;Mr. Liu Zhengxuan, Director of the United Front Work Department;and Mr. Wan Baiyong, Deputy Head of the Country Government. There were 45 teachers and 237 students participated in the ceremony and received school supplies, first-aid training, and gratuitous treatment at the TPS. The Dazhou Christian Community Medical Station organized a team of 13 medical staffs to conduct basic illness prevention and awareness activities for adolescents.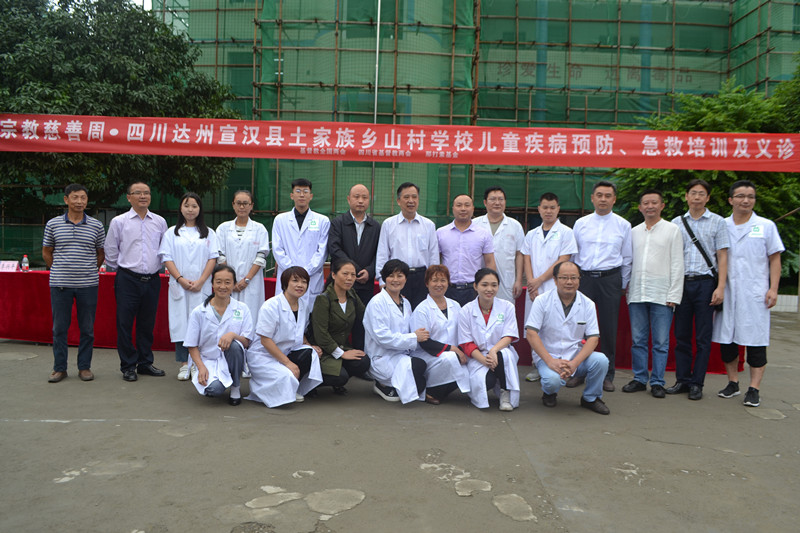 The ceremony was hosted by Mr. Sun Xiaoyan. Mr. Wan Baiyong delivered a welcome speech and expressed appreciation to CCC&TSPM, which carried out activities of caring left-behind children, financial aid of poverty-stricken students, basic illness prevention of adolescents, first-aid knowledge training, and gratuitous treatment of poor villages. Local government attached great importance on psychological problems and physical illness, because poor villages were located in the hinterland of Daba Mountain, where were many left-behind children, adolescent and seniors. CCC&TSPM, Sichuan Christian Council and TSPM, and Dazhou Christian Council took orders to the tradition of showing our love, solving problems and benefiting people in a timely manner. We insisted on participating in charity activities, which included poverty alleviation and health promotion. These activities moved local general managers and masses, who felt the warmth of our homeland.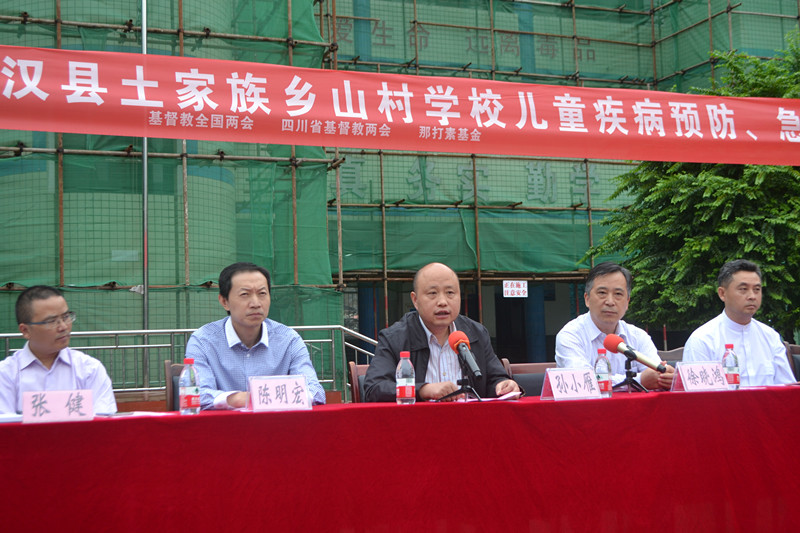 Rev. Zhang Xiansheng stated that the launching ceremony had significant meaning, which was a further practice of the Christian Community. The practice aimed at "improving an active role of religious circles and believers in promoting economic and social development; building a harmonious society and promoting cultural prosperity". It was another mobilization and encouragement for the religious community to invest in public charity, and it also was a display of love dedication, religious charity ideas and action. The project helped to further enhance social responsibility and civic awareness of our Christian community, to release the huge public charity energy contained in religious people, to promote social integration in the Christian Community, and to promote the understanding of Christianity all over the world.

Rev. Xu Xiaohong pointed out in his speech that CCC&TSPM have always followed the instructions of Jesus, which was "do not enslave others; Just serve others" and "serving is more blessed than receiving". Charity activities were a major way to practice Christian beliefs. They were a peculiar performance of Christian charity ethics and an important part of the church ministry. Only through public charity activities could we demonstrate that the church was brave enough to take social responsibility and practice the ethics of church love. Caring society was a fine tradition of Christianity, and serving others was a part of Christians. We should be actively involved in charity activities through caring society and serving society, such as medical and health care, retirement care, poverty alleviation, disaster relief, spiritual comfort, public facilities construction, and environmental protection with qualified churches and believers. We had done some useful work with marvelous results in philanthropy and charity. We began with small things and our neighbors. Not only did we take action during the charity week, we also regarded church charity as a part of the daily ministry. These caring affairs have been fully affirmed by party committees and governments at all levels, and also gained the encouragement from all walks of life. Social Services Department of CCC&TSPM donated 750 love packs at the TPS, organized health knowledge training and gratuitous treatment to teachers, students and the surrounding villagers. We would be still stuck spreading love.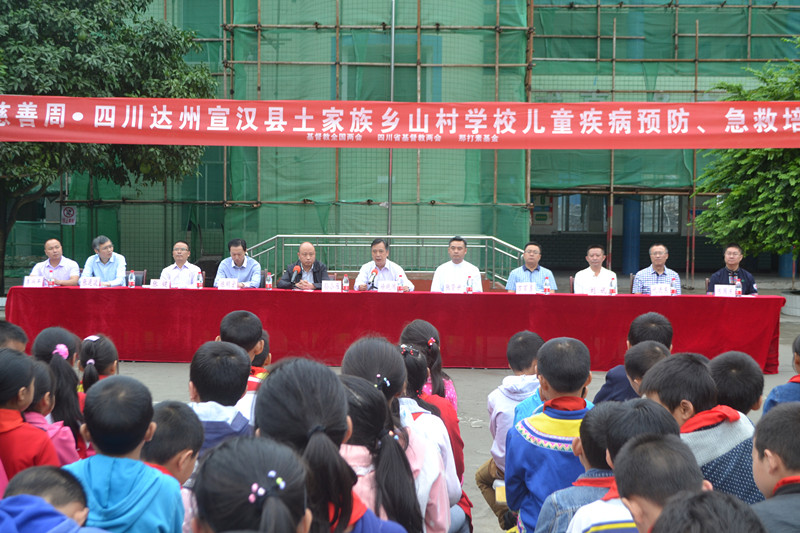 The young students expressed that they were born in poverty-stricken mountainous areas. Their parents worked far away in order to improve life quality. In the absence of family love, it was the love of teachers and classmates who encourage each other, as well as caring people in society. These love let them enjoy the warmth of our homeland. They are learning and living environment was changing gradually, and they were also growing vigorously. When they grew up, they would contribute to society, spread love, and let Chinese Dream come true.
During the event, Rev. Xu Xiaohong visited the churches and discussed with pastors in Tongchuan District of Dazhou City and Kunchi Town of Xuanhan County. He also listened to the work reports of Sichuan Christian Council and TSPM. He especially gave instructions on how to learn and publicize the newly revised "Articles of Religious Affairs". Rev. Xu Xiaohong requested churches taking the opportunity to study and publicize the new "Articles of Religious Affairs" in Sichuan. Promoting the standardization, institutionalization, and legalization of churches around the country. Adhering to the direction of the Christian localization in China, and actively implement the values of socialist harmony. We should contribute to social harmony, religion, and economic development in order to prepare for the party's 19th National Congress.◆
---
Scan a QR code to follow
——WeChat : ccctspmsfb——