On the afternoon of 13th October, 2018, Kunshan Churches in Jiangsu Province held a choral conference in the Qiandeng Church, attended by 16 choirs in Kunshan.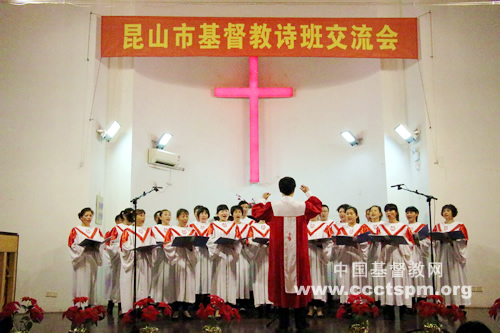 Brother Niu Qidi hosted the conference, and Rev. Zhu Hua prayed. Brothers and sisters from different choirs sang beautiful and moving choral music with big smiles on their faces. Some choirs made innovative attempts on the voice parts during the performance; some handled pitches with the greatest subtlety; some performed with strong sentiments, resonating with the audience present.
Later, Rev. Wen concluded that, although it was not a contest, he was glad to see that all choirs were well-prepared and had improved their singing skills. He also hoped that choirs can serve with praise and respect. He pointed out that choirs should sing to glorify the name of God. Christians are supposed to lead a life of praising, worshiping and glorifying God. He encouraged choir members to improve the singing skills in terms of tone, pitch, rhythm, technique, breath, enunciation, etc., to better serve God with harmonious and beautiful hymns.
The 2018 choral conference of Kunshan churches was closed with Rev. Wen's blessings. Choir members said they would never stop praising God. May God bless the Church in Kunshan! Through the conference and exchange activities, choir members can learn from each other's strengths and improve singing skills, so as to bring more blessings for churches in Kunshan.