On the afternoon of 11th November, 2018, Dianshan Lake Church held an activity themed 'Colorful rainbow—Lead a Colorful Life' in its meeting point in Kunshan, Jiangsu Province. 22 cancer patients and 10 volunteers participated in this activity.
At 13:00, participants enjoyed the afternoon tea time with food, drinks and hymns. They were at ease to have chit-chat with one another sharing what happened to them recently. It then was following with the handmade activity led by volunteers who taught them how to make card purses. Both female and male participants looked enthusiastic to get involved and sisters were particularly skillful at sewing. They could follow steps taught to make their own card purses designed in different colors and patterns. They saw their 'accomplishments' with great pleasure from which they had an enjoyable time.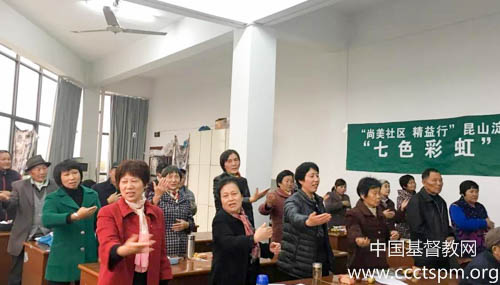 The handmade activity enables these cancer patients to feel relaxed and embrace the beauty of life. It is also a chance to display their talent, and gain the confidence of recovery and the passion for life.