On the evening of 13th November, 2018, Huaxiang Church held an unveiling ceremony for its new pipe organ in Fuzhou, Fujian Province. French performer Olivier Latry, chief organist at Notre Dame de Paris and professor at the Conservatoire de Paris, was invited as special guest to perform at the ceremony. Over 2000 people including guests from home and abroad, leaders, pastors, brothers and sisters attended the ceremony.
Teacher Guo Yinuo and Sister He Sheng'ai presided over the ceremony. Rev. Wu Wei, Associate General Secretary of China Christian Council and President of Beijing Christian Council prayed for the ceremony. The Youth Choir of the church sang the hymn Four Seasons. Brother Wu Qiyao introduced to the audience the new pipe organ which was designed and made by Reiger Orgelbau, an Austrian firm of organ builders since 1845. Reiger built organs for the Golden Hall of Vienna, Church of the Holy Sepulchre, Church of the Nativity and many other renowned churches and concert halls. In 1932, Rieger built an organ for a church in Qingdao, Shandong, which was the largest organ in the Far East.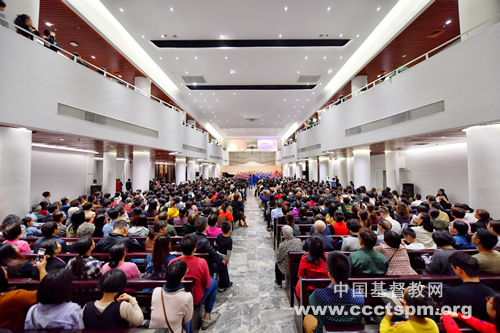 The pipe organ in Huaxiang Church comprises of 45 stops, 3050 pipes, weighing up to 18 tons. It took nearly two years to complete the manufacturing of the organ. Reiger spent one year and a half designing and building the organ before transporting all the components to Fuzhou in two 40-inch containers from its factory in Austria. Eight Austrian and German pipe organ experts came to Fuzhou to assemble and tune the organ. The pipe organ features elegant and Bible-like appearance, also known as 'Bible Organ'. It is rich in tones, thus able to display organ works in different historical periods and styles, ranging from gentleness to magnificence.
Afterwards, Rev. Chen Lifu delivered a speech at the unveiling ceremony. He extended warm welcome and heartfelt gratitude to the people at the ceremony, and then shared God's blessing on the pipe organ and Huaxiang Church. He also wished the concert a complete success.
Professor Olivier Latry performed nearly ten songs including Bach's Fantasia and Fugue in G Minor, Schumann's Fugue on the Theme B-A-C-Hand etc. The concert ended with the song Amazing Grace. Rev. Shan Weixiang, Vice President of CCC and chief editor of Tianfeng gave the benediction.