The 31st 'World AIDS Day' fell on first November, 2018. To help improve people's awareness of AIDS, the Rock Social Service Committee of Baoshan CC in Yunnan Province launched a campaign to advocate AIDS prevention in front of the Vehicle Administration Office of Baoshan City. This event received support from local government.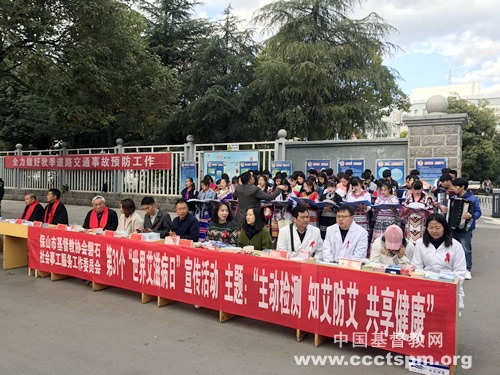 In the morning, attendees of this event included leaders from Baoshan Bureau of Ethnic and Religious Affairs, Baoshan AIDS Prevention Office, Baoshan Disease Control Center, the Division of Drug Control in Baoshan Police Station, Jiulong Street Administration and the team of waist drum dance from Baoshan Church. It lasted for four hours and 20,000 copies of promotional material for AIDS prevention were distributed.
In the afternoon, Mr. Hu, Director of Baoshan Disease Control Center and two other doctors were invited to Baoshan Christian Training Center to give lectures to theological students and help improve their knowledge of AIDS and its prevention as well as the policies and measures for the prevention and treatment of AIDS. These future pastors grasped a better understanding of the harm and precautions of AIDS. After the training, three trainers also gave AIDS tests to the students.
This campaign played a positive role in promoting local AIDS prevention and treatment.