To simulate the contemplation of the indigenization and contextualization of the Christianity in China, Shandong Christian Council & National Committee of Three-Self Patriotic Movement of the Protestant Church in China uses Qilu Lecture as a platform to help theological students and faculty enrich their knowledge and expand their horizon. On the afternoon of 9th December, 2018, Professor Liu Ping from Department of Religious Studies of School of Philosophy in Shanghai Fudan University was invited to give a lecture on 'From the Bible in China to the Bible of China: Eight Events on Translating, Indigenizing and Contextualizing the Biblical Canon in China'. Rev. Wang Mengkun, General Secretary of Shandong CC, students and faculty from Shandong Theological Seminary attended the lecture.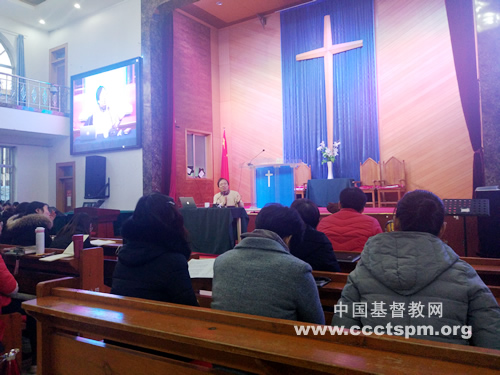 Rev. Wang presided over the lecture. Professor Liu Ping started from the very beginning of the history of the Christianity being introduced into China, shared the translation works of the Bible in each period of time, and listed nearly 100 versions of Bible translation including Roma/Chinese Catholic Version, Protestant Chinese Version, Vernacular Chinese Versions, and so forth. Tracing back to the progress of the Bible translation on its eight events, he analyzed the translation works in Nestorianism, the Jewish Torah in Kaifeng, Montecorvino's work in Yuan Dynasty, Basset Version, Marshman Version and Morrison Version, Chinese Union Version and Scotus Chinese Version respectively. In the study of the pros and cons of the versions in different period of time, it allows him to delve into the development of the contextualization of Biblical Canon in China.
Professor Liu believed that Bible translation had been taking on a situation of richness and diversity through the concerted efforts both from the foreign evangelists and Chinese people. It is fair to say that each period of time saw Chinese people directly or indirectly get involved in the works of Bible translation no matter it was foreign missionaries or the Chinese that presided over the Bible translation. Nevertheless, the Chinese people simply worked behind the curtain. Translating the Bible into Chinese can be viewed as a process of establishing dialogue between Chinese culture and Jewish Christianity civilization, which is the fruit of mutual understanding and learning between the two cultures. Among this, Chinese Union Version and Scotus Chinese Version are the two prominent outcomes from developing Christianity in the Chinese context.
Through the lecture, Professor Liu shared academic outcomes in depth, while the words are vivid and easy to be understood. It not only enabled the theological students and faculty to have a basic understanding of the knowledge and history regarding Bible translation, but also attached the importance to the development of the Christianity in the Chinese context in the course of Bible translation. It involved the reverence towards the Chinese people who wholeheartedly dedicated to the work of Bible translation, and helped the audience profoundly recognize the optimal goal of achieving 'the Bible in China' and 'the Bible of China'.