On 9th December, 2018, Nanzhan Church in Dongfeng County, Liaoyuan City, Jilin Province, held an opening ceremony for the church staff who were going to attend the correspondence course of Nanjing Union Theological Seminary.
Nanzhan Church selected six excellent and reputable church staff who have long been serving with passion, love, confidence as well as clear understanding of the calling, to attend the training in an attempt to satisfy the need of talent cultivation in the church.
Preacher Yu Yang presided over the opening ceremony, and Preacher Wang Xiyou prayed. All training attendees sang the hymn Wishes. Rev. Liu Xuesong, Chief of Nanzhan Church, gave a sermon and exhorted students with the verses from Philippians 1:9-11 to take root in the truth of the Bible, acquire knowledge intensively, distinguish the right from wrong, and be honest and flawless so as to honor God. Those who serve God should follow the guidance of the Holy Spirit, keep up with the time, update and equip oneself with knowledge and truth and adapt to a higher demand of developing the Christianity in the Chinese context, in becoming loyal and knowledgeable servants.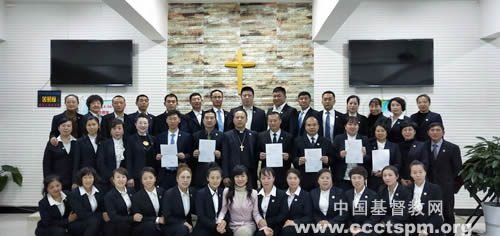 Student representative Deacon Tian Cai delivered a speech. He said that he would definitely live up to the expectation from the church, cherish this learning opportunity, and make effort in overcoming any possible difficulties in the life and study, so as to be an eligible student and a qualified preacher who could make contribution to the development of the church in the new era. On behalf of Nanzhan Church, Preacher Shi Tianbo gave the exhortation to the audience and church staff Luo Yi awarded all the students with books.
Although the opening ceremony of the correspondence course ended, it was followed by the beginning of the practice targeting at the training for grass-root clergies. Rev. Liu Xuesong said that grass-root churches used to be deficient in faculty and learning materials for talent cultivation. Thanks to Nanjing Union Theological Seminary which reopened the correspondence course, it is genuinely helpful to cultivate talents for the grass-root churches. Church members used to enroll correspondence course individually, while a lacking in learning environment and incentives normally resulted in failures in graduation. To fully utilize advantageous resources, the church set correspondence class, rigorously selected students to study in groups, and offered guidance and incentives, ensuring that they could learn with accomplishments and become useful talents for the church as well as good, loyal and knowledgeable servants of God.