On 15th December, 2018, Tianjin CC&TSPM held a launching service to celebrate Christmas in Wuqing Center Church in Yang Village, Wuqing District. Approximately 1000 people including pastors, preachers and church members came to attend the service. Senior Pastor, Rev. Lan Feng presided over the service. Rev. Mao Yajun, President and Chairman of Tianjin CC&TSPM gave a sermon.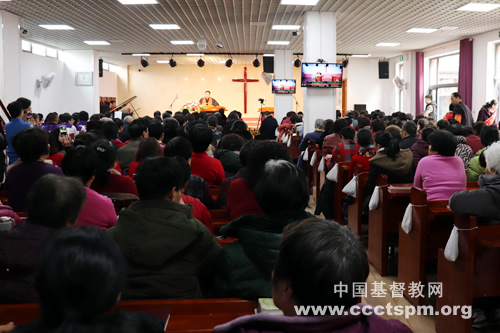 It is reported that there are nearly 800 churches and church-affiliated fellowships, over 70 thousand church members in Tianjin CC&TSPM, most of whom are scattering around the counties. Over the past twenty years, Rev. Mao Yajun organized church staff and members to reach grass-root churches and celebrate Christmas together with church members in the counties every early December, ensuring that church members in the counties could have a good Christmas.
During the service, Rev. Mao Yajun cited the verses from 1 Timothy 3:16 and exhorted church members to count God's grace, and keep their faith in faithfulness, service and patience. Rev. Mao also urged them to practice the faith not only on the day that Jesus Christ was born, but also on every single day of their lives.