At 7:00 p.m. of 15th January 2019, Chinese Union Version (CUV) centennial commemorations thanksgiving service was held in Shanghai Hongde Church as the prelude of the CUV centennial commemorations. Rev. Xu Yulan, chairman of Shanghai committee of Three-self Patriotic Movement (TSPM) presided over the service. Rev. Shan Weixiang, vice president and general secretary of China Christian Council (CCC) gave a sermon titled "Rightly Explaining the Word of Truth", sharing how the CUV influenced the language and culture in modern China. He exhorted church staff and members to fear God, fill the gap between Biblical teaching and the reality in culture, space as well as spiritual life. It is necessary to rightly explain the Holy Bible, proclaim the good, uplifting and inspiring message of truth and become the witness of good and harmonious life.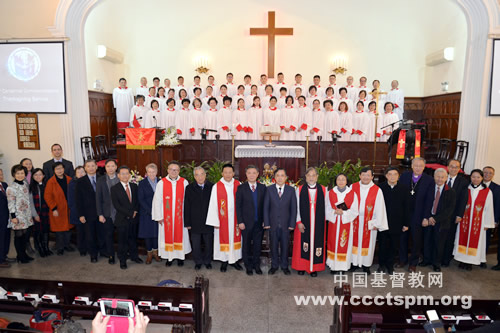 On the morning of 16th January, CCC&TSPM together with United Bible Society held CUV Centennial Commemorations and Symposium on Contextualization and Indigenization of Christianity in China in Shanghai. Mr. Xue Shuqi, division chief of the 6th Division of the 11th Bureau, United Front Work Department of CPC Central Committee, Mr. Jin Wen, division chief of Division of Christian Affairs, Shanghai Ethnic and Religious Administration, Ms. Xiu Yanbin, division chief of Division of Foreign Affairs, Hong Kong, Macau & Taiwan affairs, Shanghai Ethnic and Religious Administration and other guests were invited to attend the symposium. Representatives from the United Bible Society, Hong Kong Bible Society, Scottish Bible Society, Bishops Conference of Catholic Church in China and Chinese Catholic Patriotic Association (BCCCC&CCPA) and domestic academia delivered the speech respectively. Rev. Xu Xiaohong, chairman of National TSPM presided over the opening ceremony. Over a hundred guests attended the conference.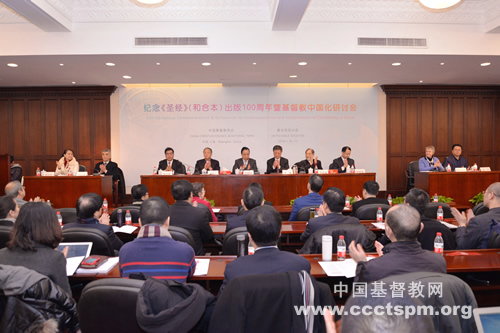 In the opening speech, Rev. Wu Wei, president of CCC said, the birth of CUV is of great historical significance in Bible translation, and it has also been marked as the milestone of developing Christianity in China. God bless Chinese people through CUV. Rev. Xu expected that the Christianity community in China and relevant scholars could place a higher value on Bible translation as well as Bible studies, explore and explain the essence of Christian doctrine while keeping up with the times and integrating it with outstanding traditional Chinese culture.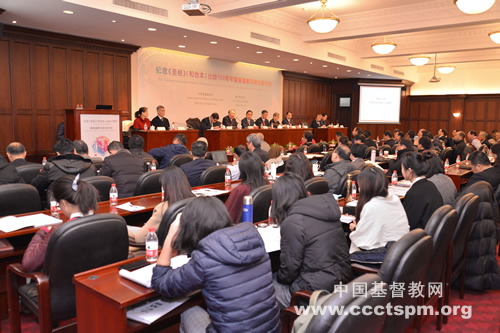 Bishop John Chew, Honorary Consultant of UBS China Partnership said that CUV has had a profound influence on Chinese Christians ever since it came out 100 years ago in Shanghai. He wished that Chinese readers could continue to read over the Holy Bible and pass it on. Future Bible translation and revision is expected to be up-to-date and faithful.
Bishop Thomas Soo, chairman of Board of Governors, Hong Kong Bible Society stated that Chinese Bible is a common blessing for Chinese Christians from all generations. It is good to witness the publication of the revised CUV which is the result of a joint effort.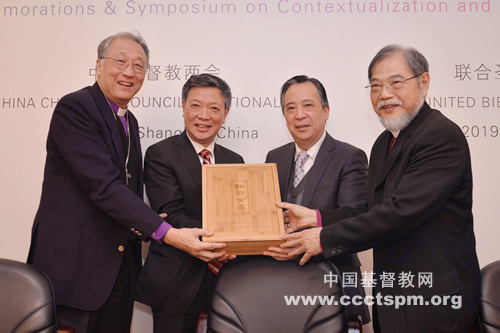 Mr. Liu Yuanlong, vice-chairman and secretary general of Chinese Catholic Patriotic Association highly praised CUV and saw it as of great importance in developing Christianity in the Chinese context.
Pro. Xu Yihua, counselor of Shanghai Municipal People's Government and director of Department of International Politics of Fudan University pointed out that CUV is more than a masterpiece for Christianity in China. As a matter of fact, it can be regarded as the largest gift for the Chinese culture received from Christianity. Translating CUV is not only an exemplary international cooperation but also a good example of intercultural communication between China and the outer world.
Ms. Elaine Duncan, chief executive of Scottish Bible Society recalled the long-lasting friendships between CCC&TSPM and the Bible Societies in many countries. A hundred years ago, the latter helped and supported Chinese Bible translation. Today, strengthening multilateral cooperation is required so as to better serve the church in China and in the globe.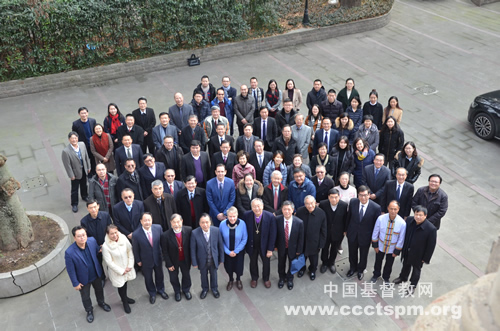 Afterwards, there were three sessions of thesis seminar in commemorating the 100th anniversary of CUV. The thesis seminars centered on the impacts and inspirations brought from CUV on the contextualization and indigenization of Christianity in China.