On December 12, 2022, the Holy Trinity Cathedral (HTC) conducted an opening ceremony. Mr. Gu Mengfei, secretary general of National TSPM and director of the HTC's church management committee, moderated the ceremony. The nameplate of the HTC was unveiled and the registration certificate for religious venue was issued at the ceremony.
Rev. Cao Shengjie, the 5th president of CCC, and Rev. Gao Feng, chairperson of CCC&TSPM's board of supervisors, were conferred with appointment letters as the HTC's consultants; Rev. Xu Xiaohong, chairperson of National TSPM, and Rev. Wu Wei, president of CCC were conferred as honorary directors.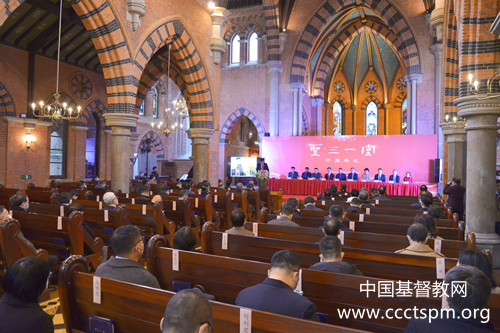 During the ceremony, a video clip that briefly introduced the HTC was played, showing the preparation process for the church opening. Also, letters of congratulations and the name list of congratulations gift-givers were announced.
Performances of piano playing, organ playing and small chorus were given alternatively, which expressed sincere feelings with beautiful melodies. The choir from East China Theological Seminary sang My People, My Country and I love Chinese Church Song. More than 80 guests from all walks of life assembled to jointly witness a new historic chapter of this hundred-year-old cathedral.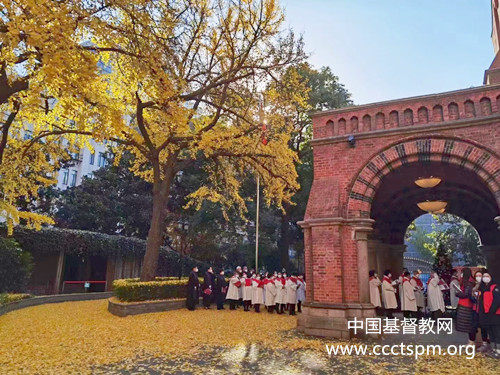 On December 18, the Holy Trinity Cathedral held a thanksgiving worship service for its opening. Rev. Kan Baoping, vice chairperson of National TSPM, officiated the service and led the call to worship. "The Lord is in his holy temple; let all the earth be silent before Him." (Habakkuk 2:20)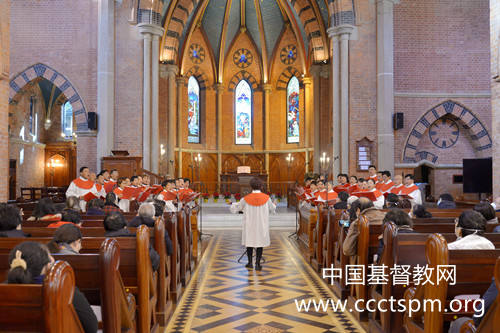 Following the declaration of trust and prayers, Rev. Hao Zhiqiang, chief editor of Tianfeng magazine, led the call-and-response. The congregation responded by saying "We dedicate this temple." Rev. Geng Weizhong, president of Shanghai CC, Rev. Jiang Qianli, director of Huangpu District CC&TSPM, and Rev. Lin Manhong, associate general secretary of CCC, read the Scripture in turns. The choir of the Mu'en Church in Shanghai performed the hymn The Word became Flesh; the congregation sang Church Dedication all together.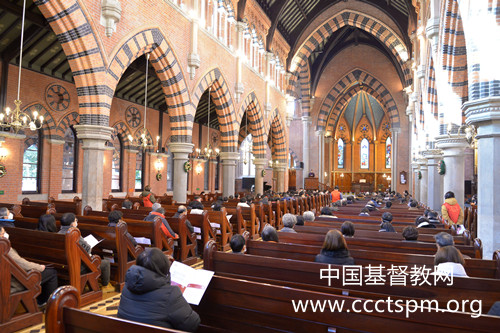 Rev. Wu Wei, president of CCC, cited Ephesians 2:19-22 and 4:2-7 to give a sermon entitled "Establish the Body of Christ". After the choir's singing of Doxology, Rev. Shen Xuebin, vice president of CCC, gave an intercessory prayer.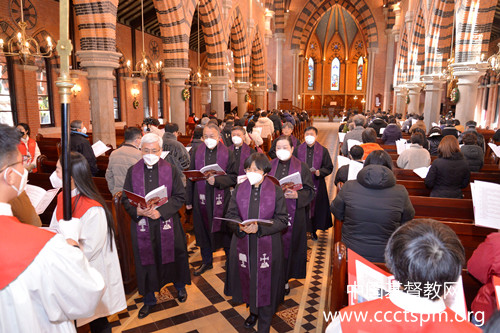 Originally built in 1847, the Holy Trinity Cathedral, adjacent to the Bund, is the earliest and best-preserved historical building in modern times in Shanghai. Also as a protestant church, it has the longest history both in Shanghai and China. So far, the Holy Trinity Cathedral has witnessed 175 years of vicissitudes. Due to historical reasons, congregational activities of this cathedral had been suspended for many years. Since 2019, efforts have been made in the preparatory work including church registration in accordance with law and regulations, which has lasted three years. Now the Holy Trinity Cathedral is officially open to the public as an affiliated church to CCC&TSPM.
Translated and edited by Bei Sang.