On 22nd January 2019, on the occasion of the Chinese New Year, leaders and staff of Anzhen Church in Wuxi City, Jiangsu Province went to visit local poverty-stricken families, lonely elderly people and seriously ill patients, etc. They also held family communion service for church members who cannot go to the church for a long time due to health reasons, which was the first service of this kind for Anzhen Church.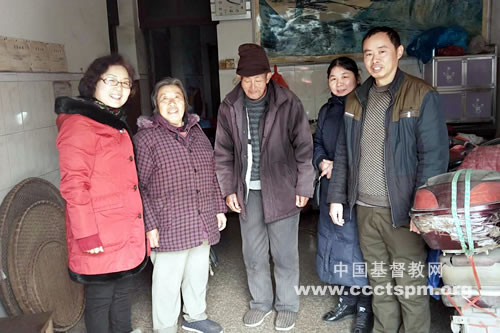 The visitation team consisted of 18 people in 4 groups, responsible for visiting believers in four locations. They visited 26 believers and 2 church-affiliated fellowships, baptized 2 belivers and held a family communion service for 10 believers.
One sister felt extremely grateful and attached great significance to the communion service as it was her first time to receive communion ever since she had lost her legs.
Church staff also paid a visit to the believers in a local nursing home and brought them care and gifts. They then subsidized some poor families who received special attention from Anzhen Church. And during the annual visit, the church brought them comfort and encouragement, and offered financial aids at the same time.
The church began to prepare this visit half a month ago and everything went smoothly. Church pastors and members had warmed the hearts of those believers and strengthened their faith. Anzhen Church will continue to care for them with Christ's love so as to honor God and benefit people.