On 19th January 2019, Henan gathering point held a lovefeast in Shaheyan County, Dunhua City, Jilin Province. It gathered 30 deacons, 20 staff members and their family members, who together created a joyful ambiance.
At the beginning of the lovefeast, they watched three inspiring videos. The first one features a story of ants which work together to achieve their goals. This allows the audience to apprehend the importance of togetherness that is key to gospel prosperity. Therefore, each of us can have good testimony in our lives; the second video tells a true story of a pair of Christian couple from whom the couples present were deeply touched and recognized that they should love and respect each other and lead a harmonious life; the last video is about the eagle that changes its feather to rebirth. It gives a lesson about the personal change for Christians. Only if change occurs, can they lead a different life and contribute to the society.
Dunhua CC&TSPM then awarded 18 deacons certificates, encouraged them to serve with all their hearts and mind in the coming year and gave thanks to their family members.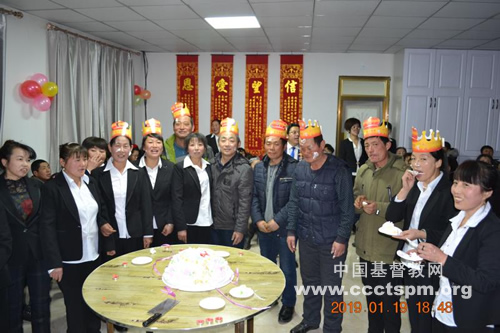 Before the lovefeast, church members from Henan gathering point had prepared birthday cake and candles for some staff workers to celebrate their birthdays together. Some also gave brilliant performances and shows during the lovefeast, which led to the climax of the night.
Family members of the church members and staff coming to the lovefeast were deeply moved and had a new understanding of the church. Those who used to oppose their family members to serve in the gathering point have changed their mind. It is believed by many that the lovefeast can not only help people know one another, but also strengthen cohesion and solidarity between each other, which can lay a good foundation for serving in the new year. And it is evident that by attending the lovefeast changes happen in the relationships between family members and they can enjoy a much more harmonious life in the family.